Estimated read time: 2-3 minutes
This archived news story is available only for your personal, non-commercial use. Information in the story may be outdated or superseded by additional information. Reading or replaying the story in its archived form does not constitute a republication of the story.
EDEN, Utah -- The word is getting out about what's happening at Alpine Pizza and Jutta's Fine German Food at 4920 E. 2550 North in the Ogden Valley town of Eden.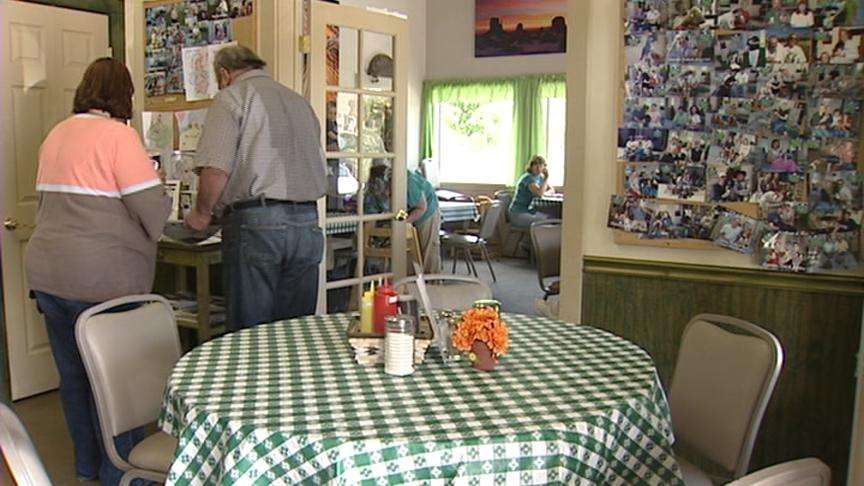 Two restaurant cuisines prepared in the same kitchen and served in the same tiny dining room, but at separate times of the day.
"They do only want to be open for breakfast and lunch, and I only want to be open for the dinner hours," explained Alpine Pizza owner Jim Halay.
Halay opened Alpine Pizza eight years ago. He used to be open for lunch and dinner, but when the economy soured he cut back to an evening schedule. During the morning and lunch hours the place was closed.
That is until a real estate agent asked him about sharing space with a husband and wife who recently moved to Utah from Germany and wanted to start up a small restaurant.
"I said, 'How can we do that? No, it can't be done.' And she said, 'Why not?' And I said, 'I don't know,'" Halay recalled.
Dual Residency

Jutta's Fine German Food
Open for breakfast and lunch from 7 a.m. to 2 p.m.
4920 E. 2550 North, Suite B, Eden
Alpine Pizza
Open for dinner after 4 p.m.
4920 E. 2550 North, Suite B, Eden
Turns out it can be done. Four weeks ago, Uwe Weibe and his wife, Jutta, opened Jutta's Fine German Food. Their menu features bratwurst, sauerkraut, schnitzel, goulash and more.
The Wiebes fell in love with the Ogden Valley when they first vacationed here in 1994, and returned several times after that. They finally decided sell everything they owned in Germany and start a new life here.
The day-to-day business is truly a cooperative effort. The two restaurants split the rent and utilities, even freezer space.
"We share the walk-in freezer, cooler," Uwe said. "He has the left side; we have the right side."
When the Wiebes close, they change out the tables and set them up for pizza customers.
"When I come in at 3:30 or so to open up the pizza shop, everything is ready for me," Halay said.
Halay reciprocates the favor, and has the place ready for the Wiebes in the morning. It's a bond of two cuisines and two cultures working separately but together really, creating good food and a lot of good laughs.
The owners of both restaurants say the word is getting out, and customers are coming in from all over northern Utah.
E-mail: kmccord@ksl.com
---
×
Related links
Most recent Utah stories