Estimated read time: 4-5 minutes
This archived news story is available only for your personal, non-commercial use. Information in the story may be outdated or superseded by additional information. Reading or replaying the story in its archived form does not constitute a republication of the story.
SALT LAKE CITY -- A federal judge has denied a request for a temporary restraining order that would have blocked a hearing in the death sentence of Ronnie Lee Gardner, who is scheduled to go before a firing squad on June 18.
Gardner sought a restraining order against his own Board of Pardons hearing, set to begin Thursday.
In court papers filed in U.S. District Court, Gardner said lawyers that represent the board work for the Utah attorney general's office -- the entity that sought his death warrant. Those state attorneys will also argue against the board commuting Gardner's death sentence to life in prison without the possibility of parole.
Gardner said that's a conflict that violates his constitutional rights.
In court papers, his attorneys claimed the parole board relied on advice from the attorney general's office in deciding to block Gardner's brother and other witnesses from testifying on his behalf. In the complaint, Gardner's attorney, Andrew Parnes, asked a federal judge to bar the attorney general's office from presenting its case at the commutation hearing.
U.S. District Court Chief Judge Tena Campbell denied the motion late Wednesday.
Gardner's lawyers also asked the judge to order the board to consider the videotaped statements from the family of Gardner's murdered victim, Michael Burdell, in making its decision. Parnes said the board had arbitrarily decided the video statement could not be heard.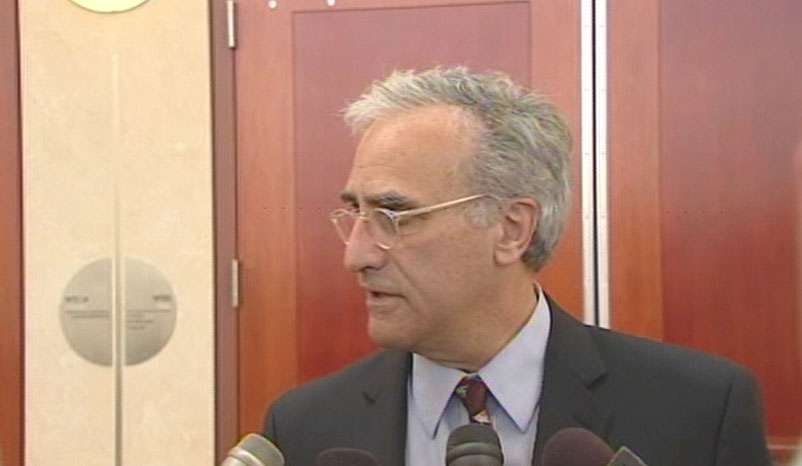 Parnes said Gardner wanted to go forward with the request for the sake of his kids and grandkids.
"Mr. Gardner is holding up," said Parnes. "I met with him yesterday. He is guardedly optimistic that we will get him a life sentence."
Gardner is still set go before the Utah Board of Pardons and Parole Thursday as planned at the state prison for the two-day commutation hearing.
"He is a changed person from what he was 25 years ago, and he will present that information to the commutation board," Parnes said.
Attorney discusses information to be used in hearing
Gardner's attorney will present affidavits from two jurors who sat on Gardner's trial in 1985. One writes that had he heard evidence about Gardner's troubled childhood, he would have voted for life in prison. The other says if they had the option of life without parole, there may have been a different outcome.
The Board will watch videotaped testimony from the victim's father, who says his son was against the death penalty.
The Board will consider videotaped testimonies from criminal defense attorney Tyler Ayres, whom Gardner contacted two years ago, and Gardner's brother Randy, who owns 160 acres of land in Box Elder County.
Randy Gardner says their dream is to start a survival camp for troubled kids. "Ronnie grew up with a very dysfunctional family and, it would be a good way of him giving back to society," he said.
---
Ronnie's brother Randy Gardner says their dream is to start a survival camp for troubled kids. "Ronnie grew up with a very dysfunctional family and, it would be a good way of him giving back to society," he said.
---
"Ronnie said if he would have had something like that, he might be in a different place today," Ayres said.
But state prosecutors say Gardner has no legitimate grounds for any appeal and say he poses a threat of future violence.
"We had two experts in the federal proceedings saying he's violent," said assistant Utah attorney general Thomas Brunker. "It's grounded in either his brain damage or personality disorder, and it's likely to continue."
Motion came while Utah Supreme Court heard appeal
Earlier in the day, the Utah Supreme Court heard arguments on Gardner's appeal, which was filed after a District judge dismissed the petition for post-conviction relief on May 27.
Gardner's attorneys argued that justices should issue a stay of execution and send the case back to state court for a new sentencing hearing.
Gardner's attorneys say their client lacked adequate funding and legal representation to develop mitigating evidence for use during early state court proceedings.
Parnes says justices also could reduce Gardner's sentence to life in prison. Parnes argues that putting Gardner to death after a 25-year wait in prison violates his constitutional rights and amounts to cruel and unusual punishment.
But state prosecutors disagree, saying Gardner could have raised his issues years ago and say many of his claims have been rejected by judges in past proceedings.
Gardner, 49, was convicted of capital murder and sentenced to die in 1985 for the fatal courthouse shooting of attorney Michael Burdell in April of that year.
The appeal follows a May ruling from 3rd District Judge Robin Reese that rejected Gardner's post-conviction petition for a vacated sentence and new sentencing. Reese said it was too late for Gardner to file the petition.
Last week the Utah Supreme Court denied Gardner's appeal of his execution warrant, which a District judge signed back in April.
------
Story compiled with contributions from Sandra Yi, Marc Giauque and the Associated Press.
×
Related stories
Most recent Utah stories