Estimated read time: 4-5 minutes
This archived news story is available only for your personal, non-commercial use. Information in the story may be outdated or superseded by additional information. Reading or replaying the story in its archived form does not constitute a republication of the story.
Update: As of 12:30 a.m. Monday, the creek had crested and volunteers were sent home. Officials said they were planning to release full-time workers soon.COTTONWOOD HEIGHTS -- Nearly 500 volunteers scrambled to protect homes and businesses from the surging waters of Little Cottonwood Creek. The waters crested early Monday morning, and the volunteers were sent home.
Residents there are facing dangerous high water and the possibility of damaging floods along Little Cottonwood Creek, from Alta Ski Resort all the way to the Jordan River.
Emergency crews and volunteers spring into action
Evacuations began Sunday night at the mouth of Little Cottonwood Canyon. Numerous agencies swung into action, and close to a hundred police officers and firefighters are on the job.
So many emergency officials were at the scene, Salt Lake County officials considered calling in outside help to cover routine emergencies.
To make matters worse, rain began pounding the area Sunday evening.
The National Weather Service in Salt Lake City issued a severe flood watch for the area. Salt Lake County officials activated their emergency center Sunday night to deal with the crisis.
The snow melt we've been anticipating for weeks is finally happening all at once. Little Cottonwood Creek doubled in volume Saturday night and roared partly out of its banks, astonishing longtime river watchers.
For most of Sunday, the creek rose at a rate of 2 inches every hour, and officials estimated it could rise another foot and a half overnight.
"It's ripping, it's a torrent," said hydrologist Brian McInerney with the National Weather Service. "It's moving about 10 or 12 miles an hour, which is incredibly fast. It is really cold, and if you happen to fall in you are not going to be able to get out."
Sunday night, at least half a dozen homes had already experienced flooding problems and at least 500 volunteers were working to protect five locations in the Fort Union area.
---
This is very unusual. Usually we don't see this. These jumps that we've seen in the last two days have been something I haven't seen, and I've been with this job 21 years.
–Brian McInerney
---
"Anywhere that there's a river running is going to be a threat, absolutely," said Capt. Michael White with the Unified Fire Authority.
Sandbagging efforts begin
The creek flooded across lawns and parking areas Saturday, but the water stayed out of buildings. The bad news is the flooding was expected to get worse Sunday night.
Sunday afternoon, volunteers worked to protect the Canyon Creek Assisted Living Center at 7235 Union Park Avenue in Midvale.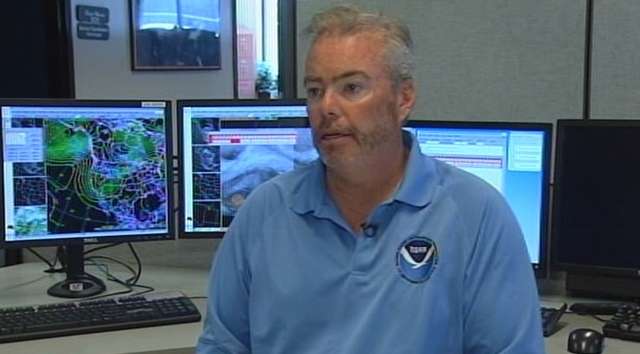 Volunteer Jeff Vielstich is just one of many people doing all they can do to stop the water from causing too much damage.
"Just trying to get these sandbags as high as possible, just trying to prevent any water from getting in there ruining the facility here and keeping them safe in there," he said.
The situation is the result of a sudden warming in temperatures, following an exceptionally wet and cool month of May.
"We've delayed the melt by essentially one month," said McInerney.
The National Weather Service didn't predict this. They're trying to analyze why its forecasts went wrong. It's possibly because there is more snow in lower elevations then experts thought, and it's all melting at once.
"This is very unusual. Usually we don't see this," said McInerney. "These jumps that we've seen in the last two days have been something I haven't seen, and I've been with this job 21 years."
White says he and his crews want to be prepared for the worst.
"We anticipate tonight will be worse, as far as the rise of the river. However, we don't think the threat is great because we've got so many volunteers out here helping us out," he said. "We've built these bags up along the shore so we hope we're ahead of this."
Officials ask residents to stay away
The biggest concern is a safety issue. Little Cottonwood isn't a creek right now, it's a raging torrent. Officials are asking residents to keep a safe distance.
"Our warning of course is stay away from the rivers," White said. "Do not go near the rivers."
Officials also say they do not need any more volunteers.
It is currently running at almost twice the volume of a typical peak in the spring runoff. In Little Cottonwood Canyon, hikers and bikers say the creek is the highest they've seen in two decades. It jammed and damaged a bridge Sunday to a hiking trail, briefly cutting off a family of hikers.
"If you get near the river, yeah, it's insane," said hiker Jason Knudson. "But we just walked back up the trail and there's a good bridge up there and walked back across."
The flood watch is expected to remain in effect until Monday morning.
Officials say areas most at risk include Fort Union, 700 East in Murray, Murray Park near State Street and the Willows Condos. Residents of Sandy and Alta who live near the creek should take precautions as well.
Stay tuned to KSL.com, KSL Newsradio 102.7FM/1160AM and KSL TV for the latest updates.
-----
E-mail: hollenhorst@ksl.com
×
Photos
Related links
Most recent Utah stories