This archived news story is available only for your personal, non-commercial use. Information in the story may be outdated or superseded by additional information. Reading or replaying the story in its archived form does not constitute a republication of the story.
SPANISH FORK -- A Spanish Fork man who lost a small fortune Monday night has his cash back, thanks to two very honest sisters.
The women, who also live in Spanish Fork, found a gym bag in a parking lot and took it home. When they opened it up, they were shocked. They had no idea the bag was filled with cash.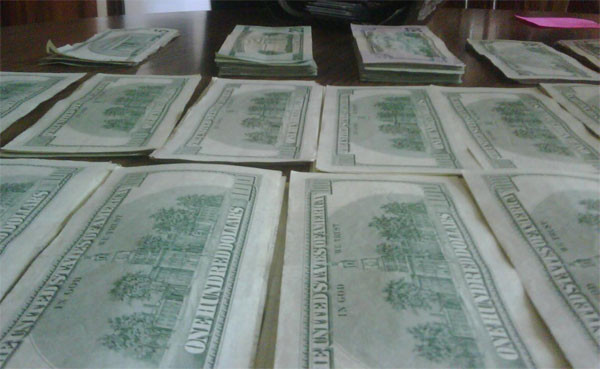 It began when Jessica and Michelle Pientka decided to make a late-night run to their neighborhood grocery store Monday night. There in the parking lot, they saw the gym bag left behind in a shopping cart. They decided to take it home in hopes of finding the rightful owner.
"It was a gym bag, and we didn't think there was going to be that much money in there," Jessica said.
Instead of finding someone's smelly gym clothes inside, the sisters found money -- and a lot of it.
"I was speechless," Michelle said. "I've never seen that much money in cash ever. So, when I pulled it out, I didn't even know what to say."
The sisters couldn't resist the temptation to count every last dollar of it.
"We counted it, and I was curious to see how much money it was. I didn't think it would be that much, but it was a lot," Michelle said.
They found a man's ID in the bag, but because it was so much cash they were suspicious and called police.
"We're just like, 'Who carries that much money in a gym bag?' It was kind of weird," Jessica said.
It turns out the man sells cars for a living and carried in the cash while he went grocery shopping so it wouldn't be stolen. He had his young daughter with him and said he was distracted when he buckled her in the car.
"He didn't sleep all night. The police said he was crying and freaking out," Michelle said.
The sisters said it never crossed their minds to keep the money. Wednesday night, the man who lost the cash stopped by to say thanks.
"We met him yesterday. He stopped by and gave us a card and told us thank you and gave us a reward, so it was really nice of him," Michelle said.
The owner had $250 cash for each of the girls as a small thank you for returning his $17,811 in cash.
E-mail: spenrod@ksl.com
×
Photos