Estimated read time: 5-6 minutes
This archived news story is available only for your personal, non-commercial use. Information in the story may be outdated or superseded by additional information. Reading or replaying the story in its archived form does not constitute a republication of the story.
SALT LAKE CITY -- Many Utahns woke up to a blanket of snow Monday morning. The wet and slushy weather caused a few problems throughout the day, but the late storm was mostly an inconvenience.
Record-setting late snowfall
The storm produced the latest spring snow ever recorded at Salt Lake City International Airport. It arrived late Sunday night and produced huge, heavy snowflakes as Salt Lake City commuters arrived for work Monday morning.
Related:
Much of the snow on the valley roads either didn't stick or quickly melted away.
The Wasatch Mountains got significant snow for this time of year. Nine inches were reported at Brighton.
By late-morning, the most powerful parts of the storm had moved to the east.
At the Salt Lake City airport, .2 inches fell. Before Monday, the latest measurable spring snow at the airport was May 18 when half an inch fell in 1977 and one inch fell in 1960.
Storm is good news for snowpack
Monday's storm came as good news for those keeping track of the state's water supply.
"Rain on snow produces more runoff than smowmelt alone, so we're getting a lot more water into our creeks and reservoirs than we would with snowmelt alone," explained Randy Julander, snow survey supervisor with the Natural Resources Conservation Service.
A cooler spring has the snowpack sitting around average levels for this time of year. Julander hopes the wet weather will continue into June to build up our water supply and put off irrigation season until July.
"When you save a month and a half or two months worth of water, that results in larger carryover into the fall," Julander said. "So, this is all money in the bank and water that we'll be able to use later in the season, or carry it over into next year."
Weather frustrates golfers, gardeners
Despite the water benefits, many people KSL News talked to were disappointed with the snow, saying they are more than ready for warmer weather.
"It should've been gone a long time ago. It should be almost summer now," said Salt Lake City resident Jeremy Miller, who spent the morning scraping snow off of his car.
Miller works at a golf course. The snow means no work for him, bat also no golfers on the green.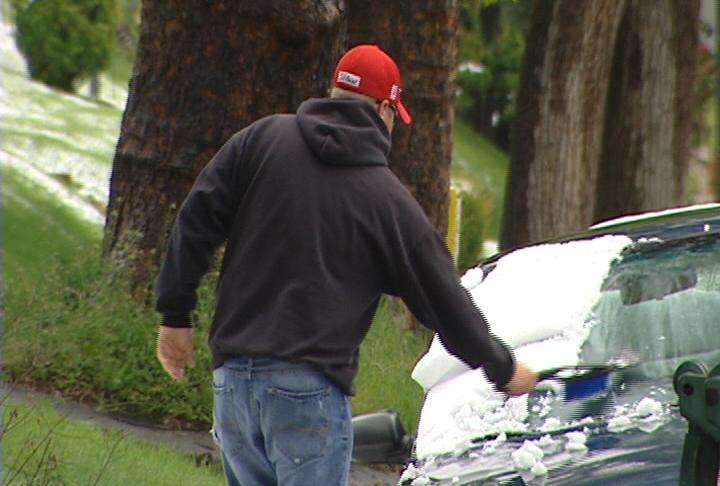 "The nice days are really busy; and the other days, well, there's not going to be anyone there today," Miller said.
He isn't the only one fed up with the rain and snow. Jack Wilbur, with the Utah Fruit and Vegetable Association hopes his vegetables pull through this cold snap.
"Snow on May 24th is pretty crazy," Wilbur said. "It's been so cold for so long, it's really hard to grow anything. Things are growing slowly."
Wilbur planted his tomatoes in cans this year, which adds an extra layer of protection for the baby plants. At this rate, the vegetables need all the help they can get.
"If it stays cool, it will just take longer for things to mature," Wilbur said.
The cold isn't doing any favors for Wilbur's fruit trees either.
"We worry maybe we didn't get pollinated because the bees couldn't do their work," Wilbur said.
He said he's still expecting a good crop but won't know for a couple more weeks how well his fruit trees will do.
"[I'm so tired of this weather," Wilbur said. "I can't wait for it to get nice and sunny and warm."
Storm causes mudslide on I-80
The winter storm also caused a mudslide along Interstate 80 near 2300 East Monday morning. The slide is just off the right side of the westbound lanes and looks like a large half pipe going down the hillside.
All the moisture from the rain and snow caused a 50-foot section of dirt to slide.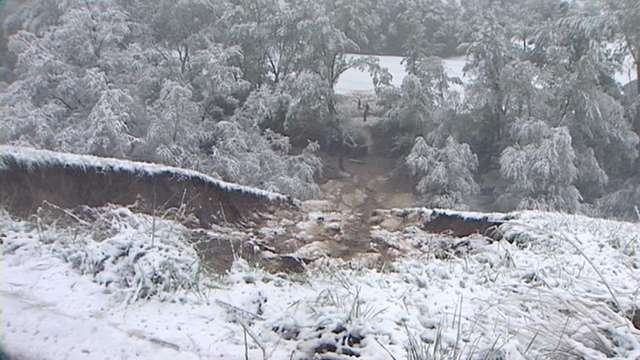 Adan Carrillo, spokesman for the Utah Department of Transportation, said a lot of water was draining down the hillside there. It became oversaturated and gave way.
"The road itself is sound, but we did experience some major drainage issues down that slope," Carrillo said.
Road crews spent the day working to help keep any additional water from draining down the slide. As of noon, water still could be seen bubbling down the hillside.
"We don't believe there will be any impacts to the roadway. However, we have installed some orange barrels around the shoulder to keep people from parking around the area because we just want to take the extra measure of caution," Carrillo said.
The Utah Geological Survey is not involved in the investigation, but scientists there say these small slides are likely on a day like Monday.
"It's not uncommon when you get a lot of precipitation very quickly to get some landslides, or shallow landslides," said Rich Giraud, with the Utah Geological Survey.
However, geologists say that heavy storms this late in the season aren't likely to cause too many slides. That's because the vegetation has already grown in, and it consumes all that water by taking it from the earth.
"We're getting our water so late in the year that plants are using it rather than to percolate in and raise water tables and trigger landslides," Giraud explained.
Some of the mud from Monday's slide made its way to the outer edge of the Salt Lake Country Club golf course below. Carrillo said UDOT crews will clean up all the debris.
UDOT also placed large boulders deep into the hillside to prevent any more dirt from sliding. In a few days, when the hillside dries up, it will fix the problem.
"We're going to come back and make this more stable. We'll keep working with the golf course officials to clear it up and keep it from happening again," Carrillo said.
Storm sets more records across the state
The record-low temperatures for May 24 were set in Alpine, Bountiful and Bullfrog.
Cedar City got a half-inch of snow Sunday night, though most of the storm's moisture fell in central and northern Utah.
Several areas got an inch or more of rain, including Bountiful, Cottonwood Heights, Tooele, Provo and Dry Fork.
Other snow totals included seven inches at Suncrest, five inches near Peoa in Summit County and three inches at Upper Millcreek.
Drier conditions are expected for the next several days. For a complete forecast, click here.
------
Story compiled with information from Anne Forester, Shara Park, Nicole Gonzales, Randall Jeppesen, Sheryl Worsley and The Associated Press.
×
Photos
Related links
Most recent Utah stories