Estimated read time: 2-3 minutes
This archived news story is available only for your personal, non-commercial use. Information in the story may be outdated or superseded by additional information. Reading or replaying the story in its archived form does not constitute a republication of the story.
Sammy Linebaugh reportingThousands of people disappear each year, but relatively few meet the criteria of an Amber Alert. So what about the rest?
Utah's Attorney General's office is issuing new protocol today for finding children and adults who disappear.
Elaine Runyan-Simmons, Daughter Abducted in 1982: "Today is the 23rd anniversary of when our little Rachel who was missing for 24 days, was found hidden in a cold mountain canyon stream."
Rachel Runyon's mother spoke in support of a new law enforcement tool for finding missing people in those crucial first moments of a disappearance.
Before the Amber Alert, Utahns knew the "abducted child alert" as the Rachel Alert in memory of the three-year old.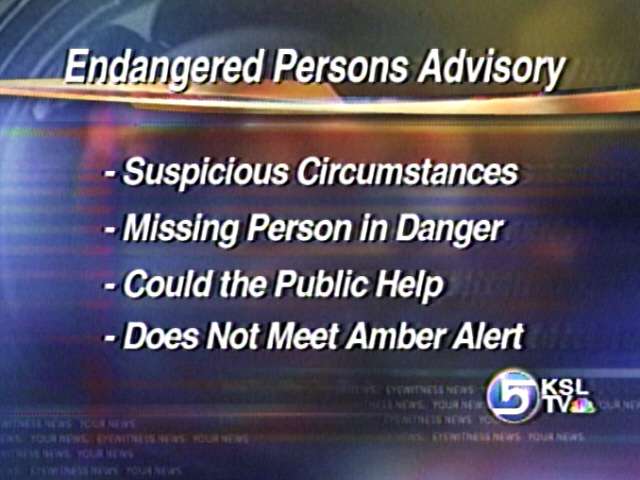 Now, this new state advisory will notify the public if a child or an adult disappears under any suspicious circumstance. It's called the "Endangered Persons Advisory" and it takes effect today.
State officials are very concerned that the new advisory does not dilute the value or effectiveness of the Amber Alert. But they say there are many instances where the public can help find a missing person.
The "Endangered Persons Advisory", announced by Attorney General Mark Shurtleff this morning, will be used by law enforcement based on the following four criteria:
Is the person missing under suspicious circumstances? Could this person be in danger? Could the public be helpful in finding this person? Does this case fall short of the Amber Alert criteria? Obviously, it should not replace an Amber Alert if that is, in fact, what the situation requires.
This new advisory will not appear on freeway signs or alert cell phones or pagers. It will go to law enforcement statewide, to border crossings, and to media.
Some example of where it would have been used: The Lori Hacking case, missing scouts Brennan Hawkins and Garrett Bardsley, perhaps a missing teen, or a senior who suffers from dimensia and wanders off.
So many who go missing, Shurtleff says, simply aren't served by the Amber Alert criteria.
Mark Shurtleff, Utah Attorney General: "Every time we get together law enforcement says man, we wanted to issue one but we really didn't think it met it but the parents were saying do this and it didn't meet the criteria. It's all or nothing, until today."
Elaine Runyan-Simmons, Daughter Abducted 23 Years Ago: "We had to copy flyers day after day, get postage, address envelopes and mail them out across the country...very tedious. Now, with a keystroke, the picture's out, the word's out."
Jodi Hawkins, Brennan Hawkins mother, was also at the press conference. She says, 'I was one of those parents. I asked for the Amber Alert when my son went missing at Scout camp, and they said, it doesn't fit the criteria'. Well now, there is something law enforcement can do in terms of notifying media, and the public, in those crucial first minutes and hours of a disappearance.
×
Most recent Utah stories