Estimated read time: 3-4 minutes
This archived news story is available only for your personal, non-commercial use. Information in the story may be outdated or superseded by additional information. Reading or replaying the story in its archived form does not constitute a republication of the story.
Ashley Hayes & Richard Piatt ReportingThe Public Safety building which houses Salt Lake City's police and firemen is falling down around them, according to those who work inside.
The building is just short of 50 years old. But there isn't much charm in this historic structure. Almost everyone in the city agrees that it's time to invest money in a new building--a lot of money.
The building, located at 300 East 200 South, was originally headquarters for Northwest Pipeline in 1958. It was already 30 years old when the police and fire departments made it their headquarters, and it hasn't aged well since then. It appears the public safety building is not living up to its name. Police are going to brief the city council on the building's condition for a second time next month. At this point they are still gathering information on how much the new facilities will cost, but the ballpark figure is more than $150 million.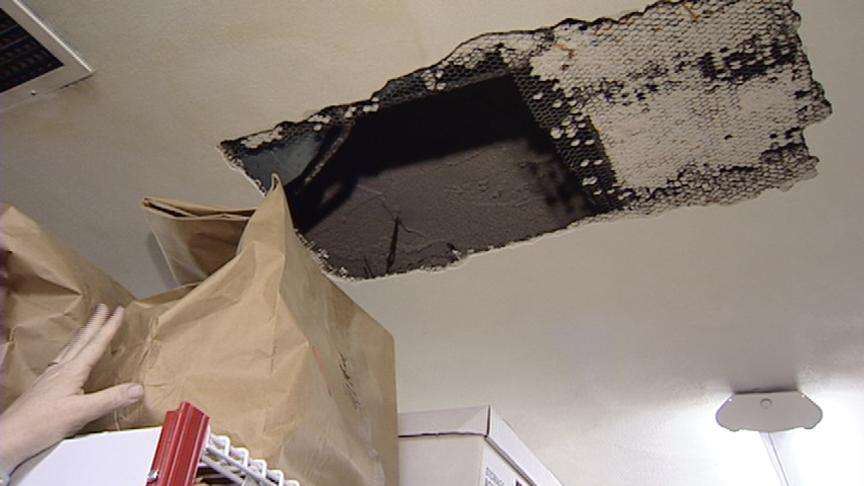 You don't have to go far inside police headquarters to find problems. In the basement where the evidence is stored there are leaks in the ceiling above the lights. They've not had any evidence destroyed, but they have had to repackage some of it.
A bigger issue is the lack of space. They have 4,000 square feet to store case evidence. Ideally they would like 35,000 square feet. That's seven times as much.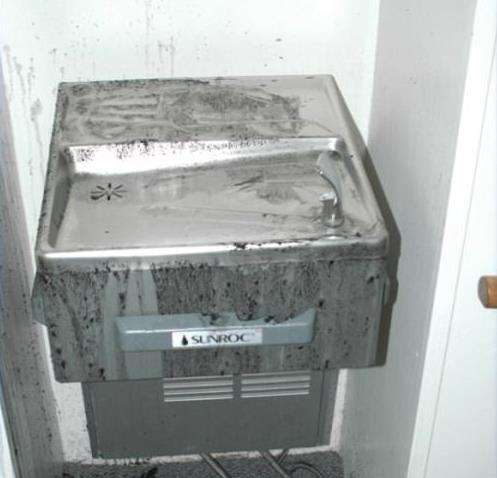 Upstairs, the water fountains don't work; they now spew out brown water. Offices are cramped, with detectives working in half the space recommended. Detective Jay Rhodes of the Salt Lake City Police Department said, "We cram the desks in and have as many people as we can in this space, but it makes it difficult for those people to do their jobs." Police estimate it will cost $6 million to fix the building's problems, but they say that's not feasible.
Rhodes said, "You can't just go through and rip the whole building apart while you're doing a working police station and replace all the plumbing. It's just not feasible. But that's one of the things that needs to happen, we need new plumbing, we need new heating and air conditioning, and we need additional space."
In the evidence room, every nook and cranny is valuable. Same goes for the 500 or so people who work there. From administrators to detectives, things are cramped.
Eric Jergensen of the Salt Lake City Council says, "I think the real hinge point to the building is going to be the cost and the services, the additional services that would come through a new building."
The building is not energy efficient. There is single-pane glass in the windows, and there are some broken windows. The elevators have been known to trap employees, namely the chief.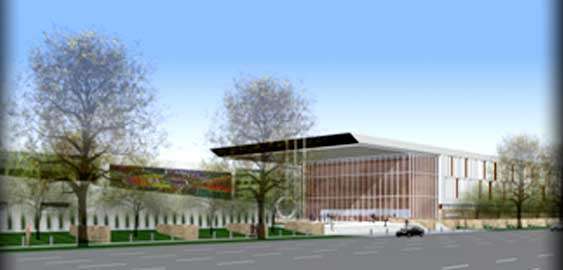 A year ago, some drawings illustrated the vision for the new building. It would be a five-acre complex of three buildings which would serve as an up-to-date headquarters for the largest public safety operations in the state.
The city council will hear a briefing next month before making a decision on what to do with the building, but police say the multi-million dollar public safety bond would pay for many things. They say it would include a new headquarters, emergency operations center, fire departments and training centers for them and also an east side precinct. They are hoping to gain a lot from this Monday if the city council will consider passing it, and they'll review that next month.
Obviously, the longer they wait to deal with this building, the more it's going to cost. But it looks one way or the other, a tax increase will be what it takes to make the new public safety complex a reality.
×
Most recent Utah stories