Estimated read time: 3-4 minutes
This archived news story is available only for your personal, non-commercial use. Information in the story may be outdated or superseded by additional information. Reading or replaying the story in its archived form does not constitute a republication of the story.
SALT LAKE CITY -- Do you prefer a cat or a dog; and whichever you pick, what does that say about you?
A research team at the University of Texas at Austin recently pulled off an interesting study that matches personality types with a choice of pets.
---
About 37% of American households have dogs, 32% have cats, but the cat population (82 million) is much higher than the dog population (72 million) because people tend to own multiple cats. -The American Veterinary Medical Association
---
Ask yourself these questions:
Are you outgoing and gregarious?
Do you like to hang out with others, or do you savor your own space and prefer being independent?
Are you even a bit unorthodox?
Researchers at UT Austin used their own Internet-based personality project to find out whether personality traits of more than 4,000 participants matched up with their animals.
"I think the study is fascinating," says Salt Lake County Sheriff Jim Winder.
He and his wife, Shawn, have trained and owned many dogs. In fact, at their wedding, Sheriff Winder's dog was best man, while Shawn's dog was the ring bearer.
"There's something about a dog that, when you come home they're there for you. They're non-judgmental. They do what you say. They enjoy what you're doing," Winder says.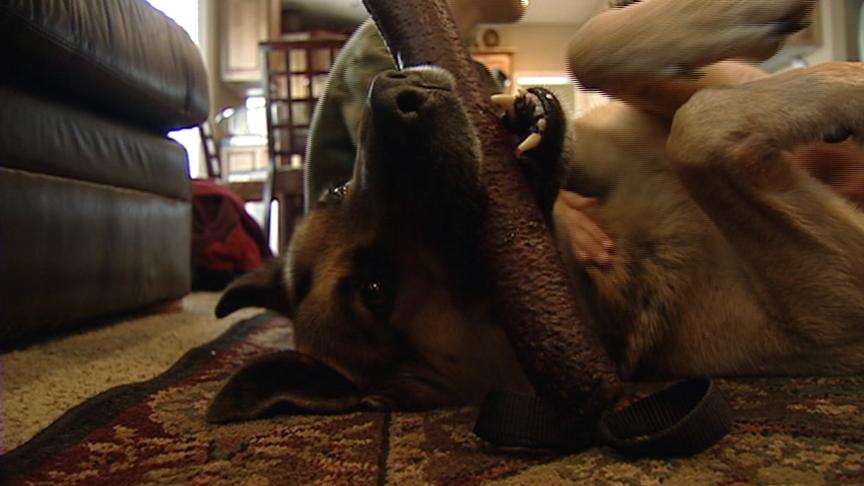 Based on the study, the personality of the Winders match their affinity for dogs.
"[We like] being able to get out and hike with your dogs and take them to the park and go jogging and so forth, and they just work well for your lifestyle," Shawn says.
The study shows dog people score high on extroversion. They're outgoing and social.
"Pet parents and dogs mimic each other, and they tend to like what each other likes," says dog owner Barbara Hughes.
Barbara's dog has his own room in the house. She's painted portraits of a long line of dogs she and her husband have raised over the years.
But what about cats?
The study finds that while dog people are extroverts, cat folks tend to be a bit nontraditional. They're often creative and philosophical. They may cherish their own space.
---
"Dog people" tend to be more social and outgoing, while "cat people" are creative, philosophical, and nontraditional. -Gosling-Potter Personality Project
---
"I feel more like he's kind of my roommate, like we can hang out but we can do our own thing," says cat owner Jessie Schooley.
Jessie likes cats because, as she says, you don't have to take care of them like their kids.
Cat owner Tim Bunker agrees.
"I think that more independent streak matches by own personality a lot," Tim says.
At Cottonwood Animal Hospital, KSL watched while veterinarian Dennis Law played soccer with his dog Beans. Beans plays by punching the ball with his nose and paws. "Cats are more independent, and they'll do it when they get around to it; whereas dogs are much more interested in pleasing you and being accepted by you," Law says.
In yet another study, when people were given pictures of dogs and pictures of owners, they could match them up just from facial characteristics 67 percent of the time. But remember, with all these studies, the personality mold doesn't always fit, and some people, despite their personalities or characteristics, like both dogs and cats.
E-mail: eyeates@ksl.com
×
Related links
Most recent Utah stories