Estimated read time: 2-3 minutes
This archived news story is available only for your personal, non-commercial use. Information in the story may be outdated or superseded by additional information. Reading or replaying the story in its archived form does not constitute a republication of the story.
Sam Penrod Reporting A couple in Sevier County had quite a bit of excitement early Monday morning. Labor pains quickly turned into the delivery of a baby at their home. Having to deliver a baby as a new dad, with help from a 9-1-1 dispatcher is a story in and of itself. But it is the unexpected, early arrival of this baby that gives this story such special meaning.
Scott Stanley, Father: "Everybody calls me Dr. Dad."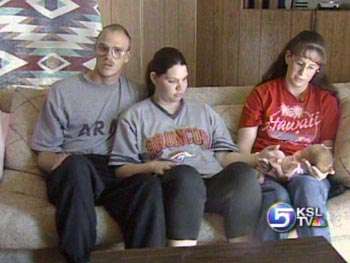 It's a new title for Scott Stanley, after he delivered his new daughter, with help from a 9-1-1 dispatcher.
On the other end of the call was dispatcher Randi Deem, in Richfield who guided Scott step by step. He also got last minute help from his sister Melinda and after just nine minutes on with 9-1-1, Sabra Ann was born.
Randi Deem, Dispatcher: "Is the baby crying or breathing?"
Melinda Nelson, Aunt: "Come on, no she's not."
Randi Deem: "No?"
Melinda Nelson: "Here she goes."
Rand Deem: "Is she now?"
Melinda Nelson: "Come on. (Baby cries. Laughter.)"
Melinda Nelson, Aunt: "She's special to me because I got to be there and help her daddy deliver her."
As for Sabra Ann's mom, she would have preffered to deliver in the hospital.
Stephanie Stanley, Mom: "I was hoping to make it to the hospital. I was just glad I wasn't alone."
But had little Sabra Ann waited until her due date, Stephanie would have been alone.
Scott Stanley: "She was actually scheduled to be born on October 11th and beforehand I found out I was going to be shipped out October 2nd."
Shipped out to Iraq, as one of the newest members of the Utah National Guard. So that explains why Sabra Ann came early.
"She wanted to see her dad before he left. She was four weeks early, but healthy."
Now he and Stephanie can enjoy a few days together with Sabra Ann, and Scott will really have a story to tell his fellow soldiers.
Scott: "I got bragging rights now. I can go over and tell them I delivered my daughter before I had to leave."
Scott Stanley will spend five weeks training in Texas before going to Iraq. He will remain with the 222nd of the Utah National Guard, until July, when the Triple Deuce is scheduled to return home.
×
Most recent Utah stories