This archived news story is available only for your personal, non-commercial use. Information in the story may be outdated or superseded by additional information. Reading or replaying the story in its archived form does not constitute a republication of the story.
TAYLORSVILLE -- He is so lively and adorable; unless you see the feeding tubes, you would never know 18-month-old Patrick has a life-threatening condition.
Brian and Emily Hoopes adopted Patrick when he was just a week old. They remember the phone call.
"I was at home one afternoon and got a phone call telling me that there was a little boy who had been born on Halloween. We were kind of surprised because we were not approved to adopt for very long. My case worker went on to explain that his life expectancy was only one or two years," Emily explained.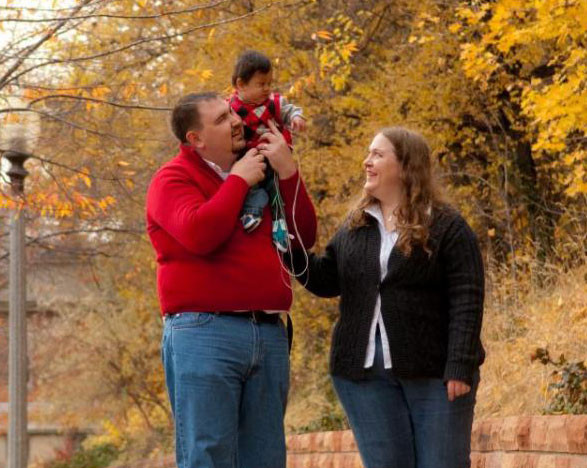 Patrick was born with short-gut syndrome. Missing more than 95 percent of his intestines, doctors say he will not survive much longer without a rare intestinal transplant.
Patrick receives treatment at Primary Children's Medical Center monthly because of infections. He has had some very serious hospitalizations and faces even greater challenges, but his parents say he's just the joy of everyone's lives.
"He's absolutely 100 percent resilient," Emily said. "He will, one minute, be crying as they try to place an IV. Then he sits up and gives the nurse who does it a kiss."
"We've kind of learned to live day by day," Brian admitted. "We don't put much off. We try to have as much fun with him as we can and try to help him grow and do whatever he can."
The Hoopes will needs tens of thousands of dollars to pay for a transplant in Seattle. Musician friend Paul Cardall and his friends will hold a benefit concert next weekend. They hope for the best, because everyone who know him says Patrick has a way of just making you feel better.
Patrick's Hope Concert takes place next Saturday, May 22, at 6 p.m. at Eisenhower Junior High School.
For more information on how you can help, send an e-mail to sandy.chidester@gmail.com.
E-mail: cmikita@ksl.com
×
Photos
Related Links