Estimated read time: 3-4 minutes
This archived news story is available only for your personal, non-commercial use. Information in the story may be outdated or superseded by additional information. Reading or replaying the story in its archived form does not constitute a republication of the story.
SALT LAKE CITY -- Some encouraging news regarding Utah's homeless population: A recent survey conducted by the Utah Division of Housing and Community Development shows the number of people classified as "chronically homeless" has gone down significantly in the past year. It's a downward trend that's been going on since 2005.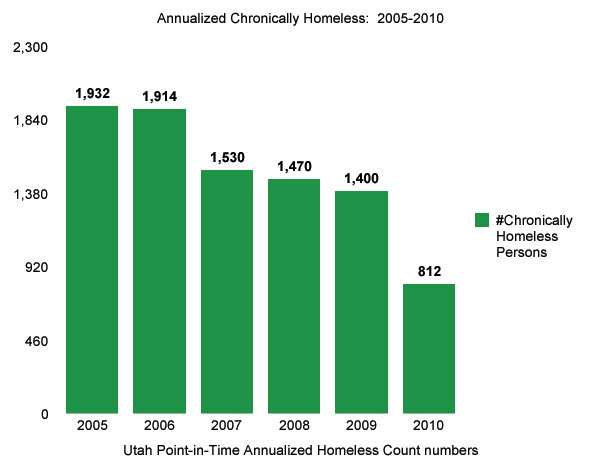 A chronically homeless person is defined as someone who has experienced a form of homelessness three times in the past five years, or for a period longer than one year.
According to Gordon Walker, Director of the Utah Department of Housing and Community Development, "In the last year, chronic homelessness is down 42 percent. But more importantly, as we look at the longer span since we started this program, chronic homelessness is down by 58 percent."
Each year, the state conducts what it calls a "Point in Time" count of its homeless population. This is a method to count the number of homeless people in a particular place, within a specific time period, on a given day. This year, the given day was Jan. 27.
Who are Utah's homeless?
• 86 percent are temporarily homeless; they stay in shelters for brief periods and do not return
• 10 percent are chronically homeless, those with a disabling condition who have been homeless for one year or more, or who have fallen into homelessness at least four times within three years. The vast majority are male, and one-third are veterans. Many struggle with mental illness and addictions.
• 65 percent are single men or women
• 43 percent are people in families, the fastest growing segment of the homeless population
• 85 percent are Utah residents; your neighbors, friends and relatives
• 90 percent live along the Wasatch Front, concentrated in Salt Lake and Weber counties
Source: www.housingworks.utah.gov
Lt. Gov. Greg Bell, who is chairman of the Utah Homeless Coordinating Committee says, "The purpose of the count today is so we have an accurate baseline so that we're addressing the problem correctly."
Utah has 15,642 people who are homeless. That's about one half of a percent of the state's population. As for the nation as a whole, about 1 percent are homeless.
Sixty-four agencies in Utah -- including soup kitchens, temporary shelters, religious groups, law enforcement and others -- assisted with this year's count.
In 2004, Utah began an effort to wipe out chronic homelessness within a decade. So far, the program is working.
Thanks to funding from federal, state and private agencies, affordable housing complexes -- such as Sunrise Metro and Palmer Court in Salt Lake -- have taken people off the streets and into their own place, where they receive job training and get their lives back in order. Matt Minkivitch, executive director of The Road Home in Salt Lake, says that's freed up much-needed space at his facility.
"People have moved into housing. They've moved out of shelter and they have not come back, and they are succeeding in housing," Minkivitch says. "It made room for us in the shelter to withstand what has been a disturbing increase in the number of families who have come to us, and that is a trend that we attribute to a downturn in the economy."
2009 to 2010 Annualized Differences
• Overall headcount increased by 0.75 % (15,525 up to 15,642 persons)
• Sheltered headcount decreased by 9% (15,015 down to 13,675 persons)
• Unsheltered headcount increased by 286% (510 up to 1,967 persons)
Source: Div. of Housing and Community Development
The state has built nearly 500 affordable apartment units in the past several years, and more are planned.
"The big message today is that we're able to house the chronically homeless and effectively begin to change their lives," Walker says.
Overall, the total number of homeless in Utah is up just slightly from last year: 0.75 of a percent. But it's the chronic homelessness number that's critical, because they no longer use up as many resources that are supposed to be used for those who need them on a short-term basis.
E-mail: kmccord@ksl.com
×
Related stories
Most recent Utah stories