Estimated read time: 2-3 minutes
This archived news story is available only for your personal, non-commercial use. Information in the story may be outdated or superseded by additional information. Reading or replaying the story in its archived form does not constitute a republication of the story.
Samantha Hayes reporting City planners call it a major problem.
Traverse Ridge Road is heavily traveled by residents and construction crews. It services an area that has grown a lot in the last couple of years.
40 miles an hour is the speed limit. It changes to 35 when you approach Highland Drive. Two major problems are speeding and congestion.
Sergeant Jerry Allred sees a lot of speeding tickets with the same address: Traverse Ridge Road.
Sgt. Jerry Allred, Draper Police Dept.: "It's is one of the police department's number one concerns as far as traffic calming in the city."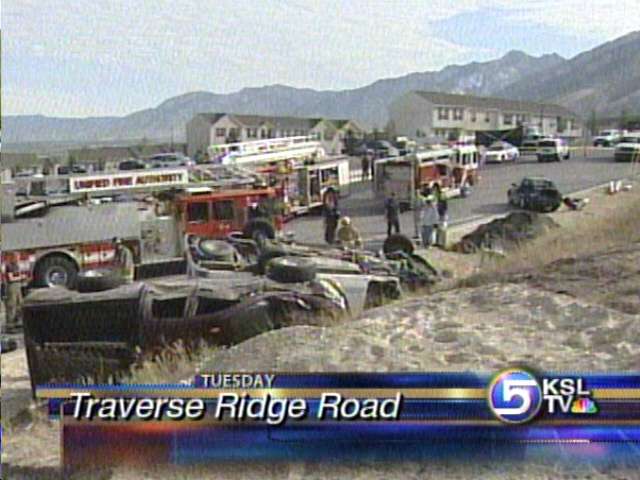 Draper City Police Department took over the road from the county two years ago. The department does not have exact numbers, but says there have been several accidents there, some fatal.
Sgt. Jerry Allred, Draper Police Dept.: "The main problem is speeding and congestion.. We have a lot of large, high profile vehicles that use Traverse to get up to Suncrest where there's a lot of construction going on. "
On Tuesday, a man driving a van up Traverse Ridge Road died when he clipped an on-coming dump truck.
His van spun out of control and slammed into two on-coming cars.
Sgt. Jerry Allred: "There's been a lot of everything, complaints, accidents, speeding all sorts of stuff. We have a lot of issues on traverse."
In the next month, city planners hope to see UDOT connect Bangerter to Highland Drive, easing some of the congestion on Traverse Ridge.
Sgt. Jerry Allred: "The road is fine. I think with the growth of the city we have so many vehicles on the road and its a main artery out of Suncrest and South Benton area so there's a lot of congestion. "
The interchange with Highland and Bangerter is anticipated to open mid-October. Draper Planning department says the road is a priority and there are a lot of ideas on the table to make the road safer for the amount of cars traveling on it.
×
Most recent Utah stories