Estimated read time: 4-5 minutes
This archived news story is available only for your personal, non-commercial use. Information in the story may be outdated or superseded by additional information. Reading or replaying the story in its archived form does not constitute a republication of the story.
FARMINGTON -- Prosecutors and police are working out final details, coming up with the best case possible against the Layton couple accused of killing a 4-year-old boy. The two remain in the Davis County Jail awaiting formal charges against them Friday morning.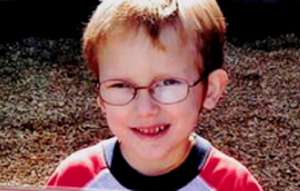 We spoke with the mother of Ethan Stacy's older siblings, Joe Stacy's first wife Michelle, on the phone Thursday. She says Joe called her just moments after learning his little boy had been murdered.
"He was just bawling and screaming, 'Ethan's dead, Ethan's dead,'" she said. "My first thoughts were, [Stephanie] killed him."
Michelle says Joe's second wife, Stephanie Sloop, was manipulative and used 4-year-old Ethan as leverage in the couple's divorce.
Michelle says Joe called his son in Utah every day. But about a week ago, Stephanie kept telling him Ethan was unavailable.
"He said, 'Well, every time I talk to Stephanie he says Ethan's asleep, he's busy, he's this.' She was always making excuses why he couldn't talk to him," she said.
---
He was just bawling and screaming, 'Ethan's dead, Ethan's dead.'My first thoughts were, [Stephanie] killed him.
–Michelle, Joe Stacy's first wife
---
Police say during that time, Stephanie's husband, Nathan Sloop, was severely abusing Ethan.
Both Stephanie and Nathan are being held on felony child abuse, obstruction of justice and desecration of a corpse. Nathan was also arrested for aggravated homicide
All those charges stem from the days leading up to Ethan's death and Nathan and Stephanie's cover-up attempt afterward.
"The probable cause statement, really what it's doing is outlining the very basics of why we feel these charges are warranted and why we feel these people are the ones involved," says Layton police Lt. Garret Atkin.
The statement details the timeline of the criminal acts:
Around May 1, Ethan arrived in Utah from Virginia to visit his mother.
May 4, a cell phone time stamp reveals Stephanie took a picture of Ethan with swelling and bruising on his jaw.
May 5, Stephanie says Nathan beat Ethan, leaving him with head wounds.
May 6, Stephanie and Nathan get married at the Farmington courthouse. They locked Ethan in his room while they were gone.
In the days leading up to his death, Ethan didn't eat well; he was burned in a hot tub and received no medical attention.
On May 9, Ethan was found dead in his bed. That's also the day Nathan and Stephanie buried him.
The night of May 10, Stephanie reported her son missing.
Early morning on May 11, the search to find Ethan began.
At 11 a.m. on May 11, police interviewed Nathan and Stephanie again and find out about the burial site.
Around noon on May 11, the search moved up Ogden Valley to Powder Mountain.
At 5 p.m. on May 11, teams discovered Ethan's body.
Related:
"I think let them rot in the jail cell and let them think about the sins they've committed," Michelle said.
Jail staffers are keeping a close eye on Nathan and Stephanie. Right now, they are separated from the general public in isolated cells. The two are not on suicide watch, but they have talked to mental health evaluators to deal with stress.
Friday may be a crucial day for Nathan and Stephanie. The Davis County attorney hopes to file the formal charges in the morning hours.
Salt Lake District Attorney Lohra Miller is not involved in the case, but says because the crime is so heinous and involved child abuse and a murder, it could qualify as a capital murder case.
"This case could be a death penalty-type case," she says. But Miller says prosecutors could have some hurdles to overcome, including the desecration of Ethan's body.
"It's not good enough to show that he died. You actually have to show that he died as a result of the child abuse. And that might be difficult and it might take some time for the coroner to establish," she says.
Investigators on the case have been working around the clock.
"Our people are very professional," Atkin says. "They've worked diligently with this case to try and provide the best possible case they can to the county attorney's office."
Prosecutors are assessing the large amounts of evidence coming in, including forensic data from the crime scene and medical examiner. They're also processing witness statements; audio and video recordings; and financial, computer and other electronic information.
Investigators last talked to the Sloops Wednesday to clear up the timeline of events. Thursday, police also interviewed and cleared a third person whom Stephanie mentioned was involved in the burial.
If the couple is formally charged Friday, they will make their first appearance at the Davis County courthouse at 1 p.m. The Davis County Attorney has scheduled a press conference for Friday at 11 a.m.
Stay tuned to KSL.com, KSL Newsradio 102.7FM/1160AM and KSL TV for the latest coverage of those events.
-----
Story compiled with contributions from Jennifer Stagg, Nicole Gonzales and Marc Giauque.
×
Photos
Related stories
Most recent Utah stories