Estimated read time: 2-3 minutes
This archived news story is available only for your personal, non-commercial use. Information in the story may be outdated or superseded by additional information. Reading or replaying the story in its archived form does not constitute a republication of the story.
SALT LAKE CITY -- Many received blessings at St. Mark's Hospital Wednesday, but the focus fell not on the patients but on the doctors, nurses and staff members.
National Hospital Week began Sunday, and this ninth annual "Blessing of the Hands" event brings the opportunity for recognition for the many who work quietly to help heal patients.
They began with a prayer from the ancient Mayans, the spiritual sounds of Native Americans and music familiar to many.
Faith representatives from eight different denominations and chaplains held the hands of those who heal the sick.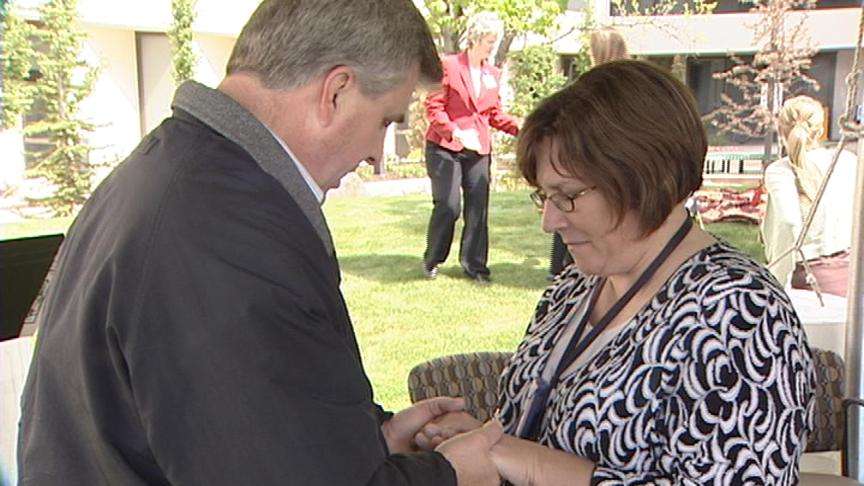 They blessed the hands of healers who touch many people. They, too, say they need renewal.
Ethics and Privacy Officer of St. Mark's Hospital Mary Hostetler said, "It actually puts a very relaxed feeling with what you're doing, and it kind of gives you the inspiration for the rest of the year."
"There's that spirit that helps heal you to know that you can go forward and you can take care of others, that no matter what you're facing, that you actually have gentle hands to take care of patients with," said Chief Clinical Nursing Officer Mary Joe Jones.
This quiet celebration of service has become very important to the hospital staff over the years.
"There have been some studies that people who have had their hands blessed or have been blessed, they do well and their patients do well," said Deacon David Osman of St. Vincent de Paul Catholic Church. "So it's kind of a privilege to be here, to do that for them."
Those faith representatives who are offering the blessings on the hands say they, too, are blessed.
Kelly "Soon" Fogerty, a Buddhist with the Kanzeon Zen Center said, "It feeds me to see all these people, to know that spirituality is being recognized as a necessary part of medical care."
"I see a lot of new faces, a lot of old faces, but if I can touch the heart, that touches my heart," said Arapaho healer Dorian Two Horses Sanchez.
And each year, this "Blessing of the Hands" become more popular with both the caregivers and the interfaith representatives.
E-mail: cmikita@ksl.com
×
Related stories
Most recent Utah stories