Estimated read time: 2-3 minutes
This archived news story is available only for your personal, non-commercial use. Information in the story may be outdated or superseded by additional information. Reading or replaying the story in its archived form does not constitute a republication of the story.
JUAB COUNTY -- A Utah Highway Patrol trooper is being credited for making a big bust of marijuana in Juab County.
The trooper pulled over a car for speeding, and it turns out the car had pot hidden inside the spare tire of the car that was stored the trunk.
UHP believes the driver was smuggling the pot to sell on the streets.
"Troopers have to be vigilant and respond if they get an idea there is something more to the traffic stop," said Cameron Roden of the Utah Highway Patrol. "The trooper did very well in looking more into his suspicions, which ultimately led to the confiscation of the drugs."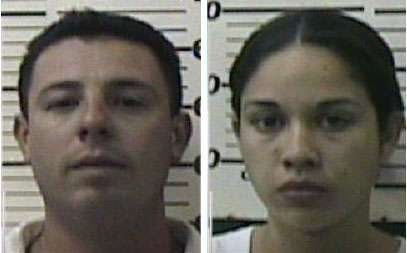 The traffic stop happened just south of Nephi on Saturday morning. The driver was going 92 miles per hour in a 75 MPH zone.
As the trooper talked to the driver of the 2009 Nissan Altima, he could smell items often used to mask the odor of marijuana.
Francisco Pardo, 27, Marisol Milian, 23, consented to a search of the car they had rented in California.
The trooper saw a spare tire in the backseat, which he thought was strange. When he opened the trunk and saw another spare tire, he became even more suspicious.
"He looked where the spare tire should have been and found a second full-size tire," Roden said. "He started looking into that, finding the spare tire was flat and had bumps in it, and that's when he discovered there was something inside."
That something was 26 pounds of marijuana stuffed inside the tire.
Pardo, who was the driver, and his passenger, Milian, were both arrested. They both face felony charges of possession of marijuana.
Marijuana has a street value of about $1,000 per pound, so the seizure prevented about $26,000 of marijuana from hitting the street.
Both suspects have been formally charged and are scheduled to appear in court Thursday afternoon.
E-mail: spenrod@ksl.com
×
Photos
Related stories
Most recent Utah stories