Estimated read time: 7-8 minutes
This archived news story is available only for your personal, non-commercial use. Information in the story may be outdated or superseded by additional information. Reading or replaying the story in its archived form does not constitute a republication of the story.
LAYTON -- The Layton Police Department released probable cause statements Wednesday in the case of 4-year-old Ethan Stacy's death.
It was a custody fight in Virginia that led to a judge's order that the boy spend the summer in Utah with his mother, who will be charged as an accomplice to the boy's killing.
Gruesome police documents describe in graphic detail the beatings Ethan endured at the hand of his stepfather, Nathan Sloop, before he was ultimately murdered. They also reveal the little boy's mother, Stephanie Sloop, did nothing to stop the beatings, nor did she attempt to get help for her dying son.
We want to warn you, the details are extremely disturbing.
Documents describe horrific abuse
Sloop told police on May 5, shortly after Ethan had arrived from his father's home in Virginia to spend the summer with her, her then-fiancé, Nathan, beat the little boy several times in the head while disciplining him. The abuse caused severe swelling, but she did nothing.
The next day, the couple locked Ethan in his bedroom alone while they went to the courthouse to get married. Sloop admitted she feared the boy's injuries would tip off police to the abuse, so they removed the doorknob to Ethan's bedroom door so he couldn't get out.
Over the next several days, Sloop could tell Ethan needed medical attention, but did not take him to a hospital for fear they would be arrested for abuse.
She told police Nathan burned Ethan in scalding water while she was gone and continued to physically abuse him. She also said, at one point, Nathan forced Ethan to drink water when he was vomiting and lethargic.
On Sunday, May 9, Stephanie says she returned from a trip to the store to find a calm Nathan, who told her Ethan was dead in his bed.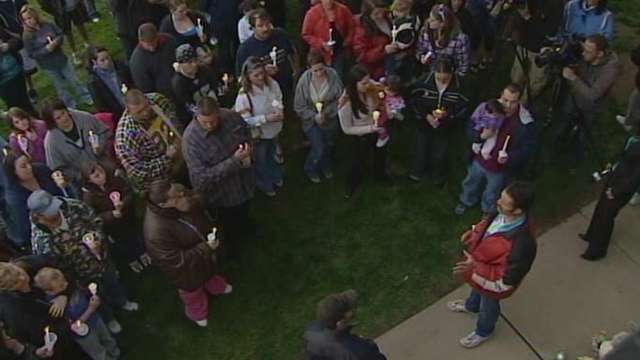 Charges claim before burying the boy, the couple took measures to make his face unrecognizable.
Sloop initially said Nathan and another man then took Ethan to the mountains, where they desecrated his body and buried him. She later admitted there was no other man and that she had helped conceal and bury her son's body.
Investigators said they obtained photographs and video images of the boy's progressively worse condition from the mother's cell phone, starting more than a week ago.
Neighbors hold vigil in Ethan's honor
Wednesday night, about 200 people gathered at the Layton apartment complex where Ethan spent his final torturous days to mourn his tragic death. The crowd included friends and people from other cities that had no connection to the boy.
Apartment residents say they wish there was something they could have done to save him.
"He was a wonderful boy and he didn't deserve to die that way," said Gary McPhie, who lives on the floor below the Sloops.
"I have a 5-year-old little boy and it tears me apart," Alicia Spiegel said.
Court battle leads to mother's custody
The biological father of Ethan Stacy received a full briefing on the crime Wednesday, he told The Associated Press.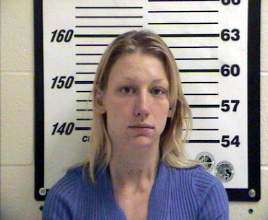 "I can't talk right now. I just got the horrible news, talking to prosecutors," said Joe G. Stacy of Tazewell, Va. "Right now is not the time."
Joe Stacy later told the Salt Lake Tribune he didn't want to send Ethan to live with Stephanie Sloop and her new husband for the summer because she was too unstable. But Stephanie had visitation rights.
Joe Stacy says Ethan kept telling him he didn't want to go.
Stacy describes his son as the "best little boy." He says he'll be haunted by no longer being able to play Spider-man with him on the PlayStation or go to the park, as they did every day.
Police have not revealed the motive for this murder, saying they wanted to reveal all the details to Joe Stacy before they release anything to the media.
The Deseret News quoted Joe Stacy's stepmother saying he was forced by a judge to give up the boy to his mother for a summer visit. Layton police provided a similar account, saying Ethan arrived in Utah May 1 "after divorce and custody issues were finalized."
Joe Stacy's stepmother, Freida Stacy, called Stephanie Sloop a "spiteful" woman intent on hurting her ex-husband. The AP has not been able to reach family members of Stephanie Sloop.
"She was just an evil person. There is evil in the world, and she is that," Freida Stacy told the Salt Lake City newspaper. She did not immediately return a message from the AP.
"I don't think she cared anything for that little boy. I think she did anything she could to irritate" Joe Stacy, his stepmother said.
The state medical examiner performed the autopsy Wednesday morning. Once that information is collected, prosecutors will decide on what formal charges will be filed against Nathanael and Stephanie Sloop.
The Sloops are currently being held in the Davis County Jail on charges of felony child abuse, obstruction of justice and desecration of a corpse. Nathanael is also being charged with aggravated homicide and damaging his holding cell at the Layton Police Department.
Ex-girlfriend, cousin not surprised by charges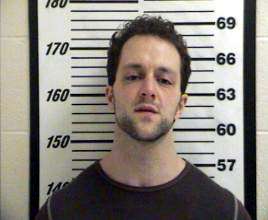 Wednesday, KSL News talked to a woman claiming to be Nathanael's ex-girlfriend, and another claiming to be his cousin. Both say they're not surprised this happened.
"I actually spoke to somebody in the family, and they had said that Nate will eventually kill somebody and he will be on the news one day," said the cousin, who did not want to be identified.
Nathanael's ex-girlfriend, who we're only identifying as Shelley, said, "I'm shocked that he could murder a child, but honestly I'm not surprised."
"He just had a fetish with throwing knives, holding knives," Shelley continued. "He would slice his hands from playing with knives."
Nathanael's cousin says he had some sort of multiple personality disorder. She believes that it was his raging personality, called "New York," who killed Ethan.
"It hurts. It makes us sick to our stomachs," the cousin said. "For something like this to affect our family, and to hurt a little boy, it's just unbelievable."
Neighbors still in shock
Meanwhile, those who live in the apartment complex where Ethan lived watched as police were back again Wednesday searching for additional evidence.
Shana Godfrey shook her head in disgust as she and some other neighbors talked about what happened in the nearby apartment.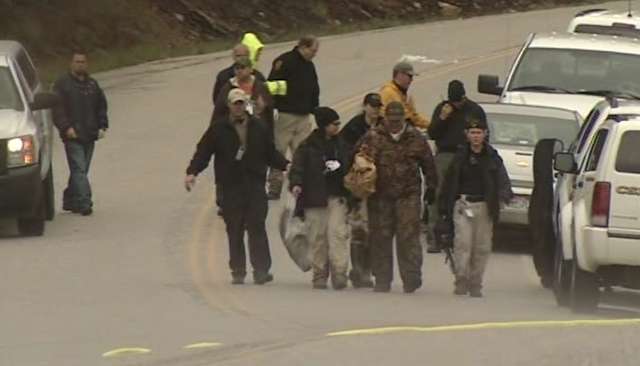 "It hit home," she said. "My daughter's 4, and when that officer came to my door at 3 a.m., my heart hit the ground."
Godfrey says police searched everywhere in her apartment -- under the beds, in the washer and dryer -- and she's glad they were so thorough.
Police believe Nathanael Sloop is responsible for Ethan's death, and that Stephanie Sloop helped cover it up. They say she went as far as to lie to police about Ethan's disappearance, claiming he had a history of wandering away from their apartment in the middle of the night.
Police say the couple eventually confessed to where their son's body was buried Tuesday afternoon after hours of searching for the boy. Officers would not say how Ethan died, but they did say he had been killed sometime in the last 10 days.
"They took them to the site of the, the burial site. The crime scene, due to the weather -- Powder Mountain received a lot of snow -- the crime scene was just difficult to process," Layton police Lt. Garrett Atkin said in a press conference Tuesday evening.
According to Davis County records, the couple has been married for only six days. We've been told they met in October of last year.
Once charges are filed against the couple on Friday morning, they will make their first appearance in court. They are currently being held in the Davis County Jail.
Utah State Courts records show that between 2000 and 2003, Nathanael Sloop had several convictions, including for criminal mischief, disorderly conduct and drug possession. In 2003, he served 30 days in jail for one drug possession charge and received a six-month suspended sentence for another.
No criminal history was found for Stephanie Sloop.
-----
Story compiled with contributions from Nicole Gonzales, Randall Jeppesen, Shara Park, Jennifer Stagg and The Associated Press.
×
Photos
Related links
Related stories
Most recent Utah stories