Estimated read time: 3-4 minutes
This archived news story is available only for your personal, non-commercial use. Information in the story may be outdated or superseded by additional information. Reading or replaying the story in its archived form does not constitute a republication of the story.
SALT LAKE CITY -- Every life has defining moments that can change the person forever. For one Utah man, he took cruel comments and turned them into his motivation.
Thirty-three-year-old Artura Bahena has heard it all. It started with cruel nicknames coming from classmates at school.
"I was living with the fear of going out and having people call me nicknames," he said. "Obviously I was the bad apple in the case. Not necessarily being a bad guy. I wasn't like them."
No, he wasn't like them. A.B., as his friends call him, was born without hands.
---
God might send us like this but we also have a gift that he gives us.
–Artura "A.B." Bahena
---
"It was so embarrassing for me that I couldn't even go and confront them," A.B. said. "I was just walking away, turning around and walking away."
But once he turned 16, something changed.
"One day I said, 'You know what? I can't live like this. I am just going to go out and whatever,'" he said.
So A.B. went to work finding jobs with the public, no longer afraid of the glares or the nicknames.
Tim Burton is A.B.'s manager at Noodles & Company restaurant. "He is just amazing," Tim says of A.B. "I guess it all comes back to his personality and attitude. Whatever he can, no matter what task you give him, he finds a way to do it."
To find an easier way, a few years ago a stranger saw A.B. at work and offered him a gift that would change his life.
He recalled the conversation: "They said, 'We would like to help you.' OK, with what? 'We would like to give you prosthetics to make it easy for you.' And for some reason I just couldn't do it."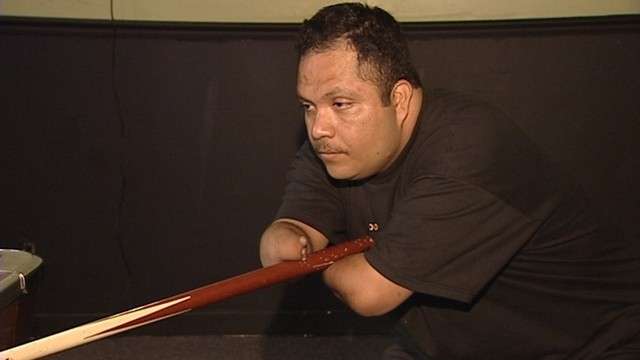 A.B. says, "God sent me like this and this is how I'm going to back to him. God might send us like this but we also have a gift that he gives us."
Surprisingly enough, that gift, he says, is shooting pool.
"About six years ago I was working at a bowling alley," Tim said. "[A.B.] came up to my manager and told him if he could beat him in a game of pool he had to give him a job."
It was a game A.B. easily won.
"He toasted my manager, he wasn't even close," Tim said.
A.B., a father of four, is also great at bowling. And the nicknames have changed.
"And instead of saying, 'Hey, there's the guy with no hands,' they'll say, 'There's the guy who helped me shoot pool,' or, 'There's the guy who showed me how to bowl. He inspired me,'" A.B. said.
And the kind words of one man in a similar situation made all of the difference in the world.
"He said, 'Because of you, here I am, and I'm living my life,'" A.B. said. "That is worth more than a thousand, million dollars."
Even with that kind of money he wouldn't change his condition. A.B. says he's OK just the way he is.
"I can use the money, but the money, I'm going to use it and then it's gone. And this stays forever, right here," he said.
Those are words that healed his heart.
A.B. says he'd like to become a motivational speaker, and maybe one day, the first handicapped pool champion.
E-mail: kaiken@ksl.com
×
Photos
Most recent Utah stories