Estimated read time: 2-3 minutes
This archived news story is available only for your personal, non-commercial use. Information in the story may be outdated or superseded by additional information. Reading or replaying the story in its archived form does not constitute a republication of the story.
SANDY -- A wild car ride landed three teens in the hospital and knocked out a traffic light in Sandy. Police say it started when the young driver took his parent's car without asking. The 15-year-old didn't even have a learner's permit when he jumped in his parent's SUV with two of his friends.
Police say the vehicle was traveling eastbound on 9000 South around 8:45 Sunday night. It was going 10 miles over the speed limit when the driver lost control at Monroe Street (150 West). The vehicle veered onto the sidewalk and then hit a construction ditch.
Sandy City police Sgt. Troy Arnold explained, "They went across three lanes of traffic, hit the curb, then hit a power box that was part of a construction area."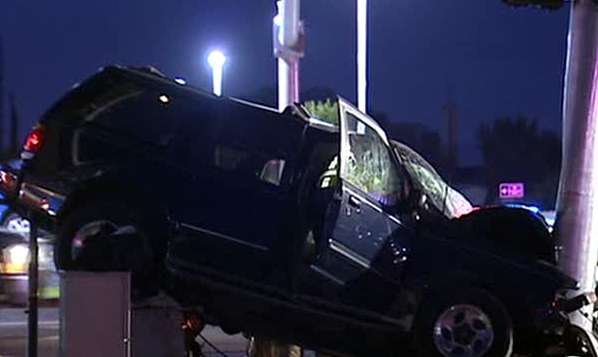 The ditch acted like a ramp. Arnold said, "[It] propelled the car in the air about six feet into the air and hit the traffic pole that holds the traffic light in place."
The crash knocked out power in the area and caused thousands of dollars in damages.
None of the teens was seriously hurt, though only one was wearing a seat belt. They were taken to the hospital in fair condition.
Police say the young driver was inexperienced and didn't even have a learner's permit.
"This is a prime example of what can happen if you haven't received the proper training," Arnold said. "It's also a good lesson to kids that, 'Hey when you are a fresh new driver and you're young, don't have your friends in the car.'"
Police say the cause of all this: likely a distracted driver.
Arnold said, "We know when kids get together they start not thinking, and this is one of those situations where luckily no one was hurt or killed."
It will be up to the parents and juvenile court if the driver will face charges -- including driving without a license, reckless driving, even auto theft for taking his parents car without asking.
E-Mail: aforester@ksl.com
×
Photos
Most recent Utah stories