Estimated read time: 2-3 minutes
This archived news story is available only for your personal, non-commercial use. Information in the story may be outdated or superseded by additional information. Reading or replaying the story in its archived form does not constitute a republication of the story.
Ed Yeates ReportingThis year for the first time, folks in Salt Lake County will be getting mass flu shots without needles. But that's not all. Kids and teens will be getting some new vaccine packages as well.
From the playground to grandma and grandpa's house, there's something new this year for the flu and other threatening sicknesses. For example, no needles for the flu vaccine.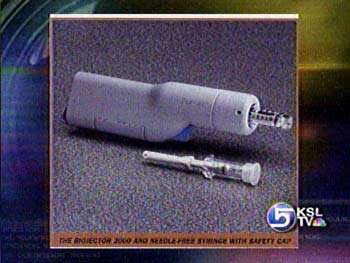 Once the flu vaccine is released this fall for general use, some immunization clinics will take on a new appearance. For the first time, the Salt Lake Valley Health Department is dropping needles in favor of air guns.
This is not the old fashioned gun some of you may remember from back in the 70's, but a new contemporary air firing device that's much easier and safer to use.
Sue Nicodemus, Salt Lake Valley Health Immunization Coordinator: "We have a lot of people who come in who are very needle-phobic. And just the fact that we are not using needles hopefully will encourage people to come and receive the flu vaccinations this year."
Salt Lake Valley Health also believes the use of air guns over the traditional needle syringes might work better in an emergency, like a pandemic.
Sue Nicodemus: "We don't have any sharps containers to worry about. We don't have the biohazards waste that we typically would have. The little cartridge that fits into the gun just comes out and we throw it in just the regular garbage."
Groups ages ten to eighteen or eleven to 64 will notice another new innovation this year. Depending on which age group you're in, Pertusis, Tetanus and Diphtheria will now be given as one shot.
College age students, living on campus, are again being strongly advised to get meningitis, and hepatitis A and B shots. Anyone with respiratory complications or immune deficiencies should also get a pneumonia shot.
Also, for flu shots this year, Salt Lake Valley Health will do away with scattered clinic shots in favor of three all-day mass immunization sessions. The first for high-risk priority residents will be October 15th. Barring any shortages of vaccine, general mass sessions will be on October 29th and November 5th.
×
Related links
Most recent Utah stories