Estimated read time: 3-4 minutes
This archived news story is available only for your personal, non-commercial use. Information in the story may be outdated or superseded by additional information. Reading or replaying the story in its archived form does not constitute a republication of the story.
SALT LAKE CITY -- Political observers from all across America will watch Saturday's Republican State Convention to see whether Sen. Bob Bennett will survive an anti-incumbent atmosphere. Delegates will choose from among a long list of candidates.
There are strong differences of opinion on that question. Polls indicate Bennett is in trouble, but if you ask him, he says he's not.
---
Frankly, I believe I would be more of a change agent than any of my opponents here. I would have more influence in turning the ship of state than any of them would.
–Sen. Bob Bennett
---
Bennett has been on the defensive. Now, on the eve of the moment of truth, he says he feels good.
"Obviously, we're concerned about how close and tight it will be; but our own indication is, as we talk to the delegates, we're going to be all right. We're going to come out of the convention," Bennett says.
The senator said Friday his seniority allows him to bring more change in Washington than any of his seven GOP opponents. His bid for a fourth term is at stake as about 3,500 Republican delegates gather Saturday to choose the party's nominee -- or two candidates to face off in a June primary.
In an interview on CNN, Bennett said he's working to overcome the anti-Washington anger.
Related:
"The anger is palpable; the anger's very strong, and that's why I'm in trouble. But if I meet with the delegates -- if I spend time with them, going through the facts --I find I can turn them around," Bennett said. "Just this morning, I had breakfast with a group of delegates and I said, 'How many of you are undecided?' A majority of them raised their hands. That's what makes me think I still have a shot at this."
Bennett has primarily come under attack for voting for a massive financial bailout, co-sponsoring a bipartisan bill mandating health insurance coverage and for aggressively seeking earmarks for Utah.
"Frankly, I believe I would be more of a change agent than any of my opponents here. I would have more influence in turning the ship of state than any of them would," Bennett said. "This is not a speed boat that you turn in a minute. This is an ocean liner that's going strongly in one direction and it needs the kind of thoughtful approach to getting it done that I believe I can bring to it."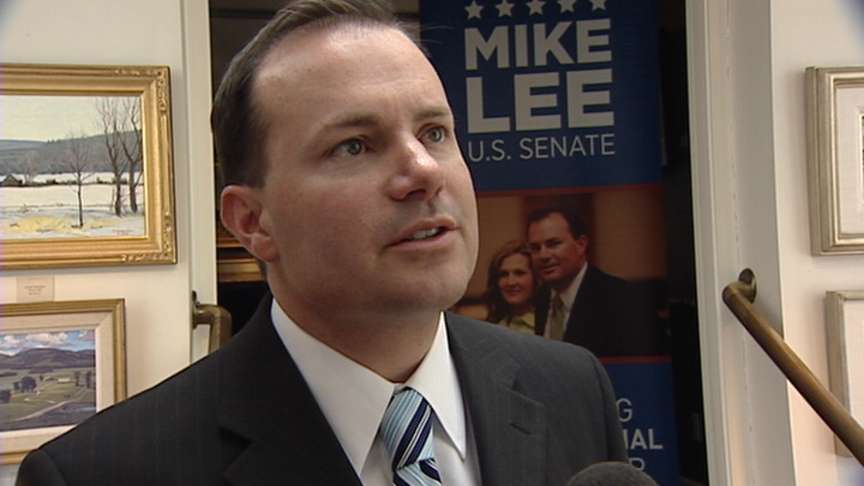 Bennett has worked harder on this campaign than he's had to in years. That's because multiple polls basically reflect what a recent Dan Jones poll did: Bennett is not the first choice among delegates right now; Mike Lee is. It's close with Tim Bridgewater too.
The poll, from two weeks ago, also indicated most delegates said they would not vote for Bennett. The question is have things changed since our poll was done?
The race has gathered national attention. CNN covered a Mike Lee event in Provo this week.
It's been a rigorous tour of the state for each candidate. As the leader in the polls, Lee says he's "guardedly optimistic" right now.
Related:
"I've been buoyed and encouraged by the support I've had from delegates from across the state. But this is a tough race. We've got some really good candidates, and I'm taking nothing for granted," Lee says.
Tim Bridgewater offers something a little different from the others: A small business owner's perspective. Many delegates, he says, like that point of view.
"I feel we've got a really good shot of winning the convention on Saturday, and we're pushing hard right to the bitter end. We had six events yesterday, met with over 90 delegates," Bridgewater says.
As confident as they all are, this race is nerve-wracking. Bennett will need at least 40 percent of delegate votes to force one of his opponents into a primary. Any candidate who gets 60 percent of delegate votes at the convention wins the nomination outright, avoiding a primary altogether.
-----
Story compiled with contributions from Richard Piatt and Associated Press writer Brock Vergakis.
×
Related stories