Estimated read time: 2-3 minutes
This archived news story is available only for your personal, non-commercial use. Information in the story may be outdated or superseded by additional information. Reading or replaying the story in its archived form does not constitute a republication of the story.
HERRIMAN -- A Herriman city councilman resigned Thursday afternoon after being charged with a felony. Councilman Mick Shannon was charged with criminal mischief for an incident involving his wife and a man he thought was having an affair with her.
Herriman city officials say Shannon met with mayor Josh Mills Wednesday to talk about the charges. Thursday, Shannon resigned. In a letter he stated: "It is in the best interest of the city that I tender my resignation effective immediately." [CLICK HERE to read the entire resignation letter]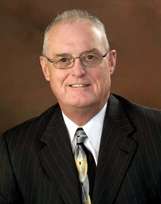 "As a council, we respect Mick's decision to resign and wish him luck in his future endeavors," Herriman Mayor Josh Mills said Thursday.
Still, Herriman city spokeswoman Nichol Martin says it's disappointing for the city.
"We have many exciting things ahead for us and, regardless of this unfortunate circumstance, we will continue to move forward," Martin said.
This was Shannon's first year on Herriman's city council. In a phone interview, he explained why he resigned.
"It'll probably take a little bit of time with the process to get my name cleared, and I just don't want this to become any kind of distraction for our city and for our city leadership," Shannon said.
"It doesn't mean I'll be crawling in a hole by any stretch of the imagination," he continued. "I love public service and I hope to get back into it soon."
KSL asked him about the charges, but he claims he's not sure what he's facing.
"I really can't get into it right now," Shannon said. "I don't know that much about it. I think I need to find out a little bit more before I would indicate what it's really all about."
According to court papers, the incident happened in February after Shannon's wife told him she wanted a divorce.
A few days later, the documents say Shannon went to the home of a man he thought was having an affair with her, slashed all four tires on his truck, keyed all four sides of his truck, and went to his wife's house and took her computer and copied her hard drive, looking for e-mails.
"I expect it'll take a little while to get this all cleared up," Shannon said.
As for any rumors that may be spreading around the city of Herriman, Shannon says he's not worried about them.
"That's the natural process, and the natural outcome of these kinds of things, so that's what's going to happen, and we'll just try to deal with it the best we can," he said.
Shannon, who also worked with the Utah March of Dimes and co-founded the Children's Miracle Network, is scheduled to appear in court to face his second-degree criminal mischief charge Friday morning.
E-mail: acabrero@ksl.com
×
Related links
Most recent Utah stories