Estimated read time: 2-3 minutes
This archived news story is available only for your personal, non-commercial use. Information in the story may be outdated or superseded by additional information. Reading or replaying the story in its archived form does not constitute a republication of the story.
TAYLORSVILLE -- Hundreds of gallons of water rushed down a Taylorsville street Tuesday morning after a woman lost control of her vehicle and hit a fire hydrant.
The large amount of water forced police to close the street while crews shut down the line.
At least one home as flood damage to its basement. Police say the water flowed under a fence and into the home through one of the window wells.
The hydrant broke around 7:30 a.m. A woman was driving on Bennion Blvd. near 6200 South when, at about 1500 West, she lost control of her truck and slammed directly into the hydrant.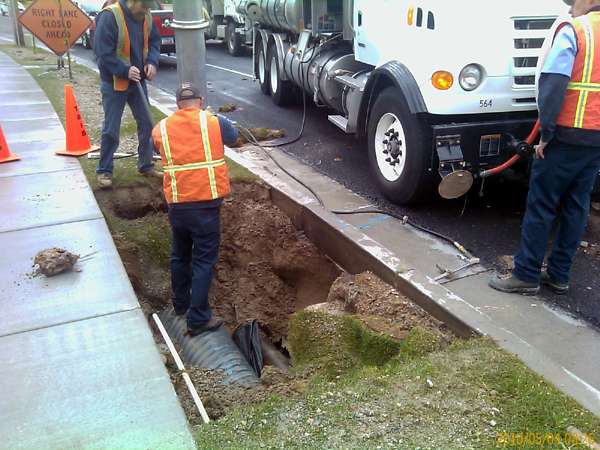 Police say the impact broke not only the hydrant, but the 6-inch water line underneath. For the next 45 minutes, rocks, mud and water flowed into the street.
"[Water] was just coming up out of the ground at a very large rate, going under the fence, down the roadway here and then around the fence," said Det. Shannon Bennett with the Taylorsville Police Department. "So we believe that some of these homes were taking on water."
Police closed Bennion Blvd. from 1300 West to 1700 West while crews shut down the water line and assessed the damage.
They say most of the mud and water flowed into one of three drains along the street; however, several yards were flooded along the way.
"Half of the lawn was completely covered out here in front," said Donna Bateman, whose yard was flooded by the broken hydrant. "And it was running down the driveway to my sister's place, but I have a drain the back where it was draining into."
Other than the one home with damage to the basement, all the other properties along Bennion Blvd. seem to be ok, just a little over watered.
Police say they're now investigating the driver, tying to find out what caused her to crash.
E-mail: spark@ksl.com
×
Photos
Most recent Utah stories