Estimated read time: 2-3 minutes
This archived news story is available only for your personal, non-commercial use. Information in the story may be outdated or superseded by additional information. Reading or replaying the story in its archived form does not constitute a republication of the story.
Brooke Walker ReportingSunday is National Grandparents day and most grandparents would agree, there is a special joy that comes in filling that role. Brooke Walker introduces us to a Utah man who has felt that joy 140 times.
Today Homer Whitlock won a contest for having the most grandkids -- something he couldn't be more proud of. Homer told us he never thought he would live to be 87-years old. But looking back on it, he's sure glad he did.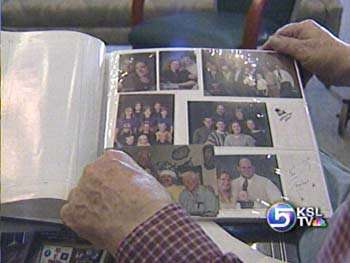 While the names don't always come, Homer can tell you something special about nearly every one of his 140 grandchildren.
Homer Whitlock: "It's a lot easier than you think. If you can remember a few, they just come naturally. I can name most of them but it takes a while some times."
He relies on a family file to help him keep it all straight. Ten kids, 66 grandkids, 71 great-grandchildren, and three great-great-grandchildren.
Homer Whitlock: "I tell ya, it gets kind of expensive."
Expensive, but worth it.
Homer Whitlock: "They are all nice and most of them are pretty well behaved."
Homer looks through his family photos often to remind him just how much they mean to him. He shared with us the secret to his grandparenting success.
Homer Whitlock: "Treat your grandchildren decent. Don't try to run them down, and listen to what they have to say."
Although he told us he is still "growing up" himself, he always offers his family a little grandfatherly guidance.
Homer Whitlock: "Stay true and honest and get a good education because you can't get anywhere without it."
And while winning 250 dollars is nice, all he has to do is look into the faces of his grandkids to feel the satisfaction.
Homer Whitlock: "It just makes me so happy."
Homer's family tree continues to grow. He is looking forward to gaining two new great-great grandchildren in the coming months.
×
Most recent Utah stories