Estimated read time: 1-2 minutes
This archived news story is available only for your personal, non-commercial use. Information in the story may be outdated or superseded by additional information. Reading or replaying the story in its archived form does not constitute a republication of the story.
Tonya Papanikolas ReportingThe focus today for hurricane evacuees in Utah is getting them work. The State Department of Workforce Services organized a job fair for the evacuees today.
The job fair was from 2:00-4:00 this afternoon. Twenty-six companies from across the valley set up in the community center at Camp Williams today. The job fair went well; somewhere between 100 and 125 evacuees showed up. We're told 44 of them were hired today and many more will be having second interviews.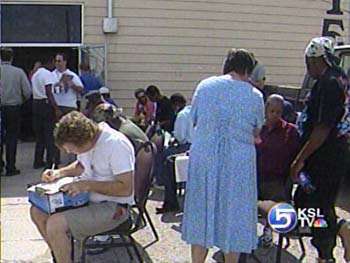 The evacuees started outside where they filled out applications, and from there they went inside to check out the different companies offering work. Those companies had representatives on site, letting people know what jobs were available.
Some companies talked with evacuees to get their information, others offered jobs on the spot. Staffing Solutions, an employment placement agency, registered Veronica Scott today.
Veronica Scott: "It doesn't matter where I work. All I want to do is just work."
Liz Whitney, Staffing Solutions: "The fact that she can see the value in having a job excites me. I'm anxious for her because I know that with her personality she'll probably end up being a department head or onsite manager pretty quick here."
Phillip Johnson II, Looking for Work: "Opportunity's knocking and you don't even have to go looking. They're grabbing you."
The types of jobs offered today ranged from construction work to customer service jobs to telemarketing to culinary. Some evacuees were looking for specific types of work, others said this is a great opportunity for a change of pace and they're willing to try something new.
More and more people are also getting housing. We're told over 50 families went out today to find new homes. There will also be about 28 people leaving on buses out of town tonight.
×
Most recent Utah stories