Estimated read time: 2-3 minutes
This archived news story is available only for your personal, non-commercial use. Information in the story may be outdated or superseded by additional information. Reading or replaying the story in its archived form does not constitute a republication of the story.
Amanda Butterfield ReportingThe devastation of Hurricane Katrina --families separated, homes gone, lives lost-- it's a lot to take in. Any personal tragedy requires a period of grieving and a process of recovery. One Utah woman is working through her pain by documenting it.
These may be some of the saddest scrapbook pages you've ever seen.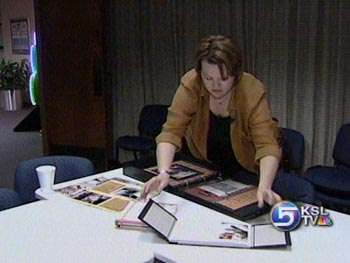 "One of my dear colleagues passed away."
Deaths.
"This was my partner for years."
Funerals, events you may think would want to be forgotten, but that's life.
Tracey White, Creating Keepsakes: "My scrapbook is all about my life. If I only show you the good things, then it's only a two-dimensional image of who I am."
Tracey White scrapbooks for more then just remembering the good times, but to help her get through the bad.
Tracey White: "A scrapbook is also the perfect place to have a cathartic relief and start on the healing process when you've got through some hardships."
She wasn't there when Hurricane Katrina hit, but it's still pained her. Same with last year's tsunami, and 9-11. When the pain comes, Tracey scrapbooks.
Tracey: "It helped me process things."
Journaling has been used in grief therapy for a long time. Marilyn Luptak, a professor of Social Work at the University of Utah, advises elderly patients who are dealing with death to scrapbook and keep journals.
Ph.D. Marilyn Luptak, University of Utah: "It can be a comfort to them, and something absolutely private. They don't have to share it with anyone."
Luptak says by documenting past pain, it allows you to look forward. And then, when you're ready, to look back and see how far you've come. That's what Tracey does.
Tracey White: "You go back with new perspective. Now when the wound's healed, and say, 'This is how I changed.'"
Tracey admits she doesn't look at these pages often,
Tracey White: "It's not easy to go through difficult times."
But like it or not, it's her life, and she's dealing with it just fine.
Professor Luptak says this kind of therapy may not be for everyone -- some people are private, and recording these events could be upsetting. Others will welcome the opportunity to document their feelings.
×
Most recent Utah stories