Estimated read time: 4-5 minutes
This archived news story is available only for your personal, non-commercial use. Information in the story may be outdated or superseded by additional information. Reading or replaying the story in its archived form does not constitute a republication of the story.
SALT LAKE CITY (AP) -- Nick Huntsman was grateful for his Small Business Administration loan for companies pummeled by the Sept. 11 terrorist attacks.
In 2001, Huntsman launched Mountain Sunrise Feed in Enterprise to ship compressed hay and alfalfa to dairy cooperatives across Japan and Asia. His newfound customers planned to inspect the quality of the feed on a visit that September when the buying season opened, but the attacks kept them from traveling and they turned to more familiar suppliers instead.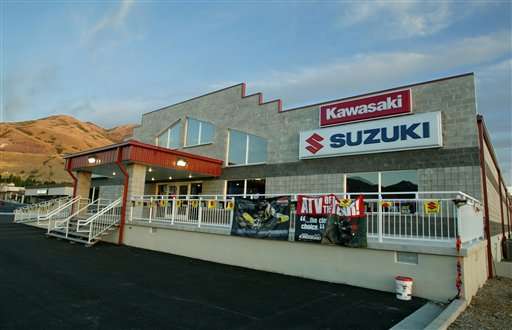 "It struck us very hard and just about put us under," said Huntsman, who was struggling to make $25,000 monthly loan payments on a processing plant. "We still haven't fully recovered, but we'll make it."
Huntsman, a distant cousin of Utah Gov. Jon Huntsman, was able to refinance on easier terms under a congressionally approved "terrorism recovery" loan of $1.3 million. A poster child for companies that sustained post-Sept. 11 damages, Mountain Sunrise Feed was one of 114 small businesses in Utah to get the loans.
But a review by The Associated Press found the loan program was extended to all kinds of businesses -- dentists, a liquor club, gas stations -- whether or not they could show an obvious hardship. It turns out banks took the cheap SBA money and lent it on their terms, making their own decisions about who qualified. In many cases bankers never told customers the money was coming from the special terrorism-recovery fund, and some of the businesses said they didn't get low interest rates or extended terms.
Don Robinson, owner of Vesco's Motor Sports in Brigham City, Utah, took out $765,000 in SBA loans in 2003 to buy the motorcycle dealership and inventory. Robinson said he wasn't told his loan came from a terrorism-recovery fund -- and that Sept. 11 didn't hurt his business. It boosted sales of motorcycles, he said.
SBA spokeswoman Carol Chastang said the agency let banks make their own decisions about which businesses qualified for the program and set their own terms. All arrangements were left "between the bank and borrower. We don't know a lot of times" why certain loans were made, she said.
Chastang said she could not explain why three dental clinics and a liquor club in Utah were approved for disaster-related loans.
But Jolene Olquin, owner of the private club Batter's Up in Salt Lake City, said she obtained what she thought were regular SBA loans -- $884,000 to refinance the business in 2002. She said she knew nothing about the disaster-related category of the loans and didn't get any of its easy terms or low interest rates. Olquin borrowed the money through Minneapolis-based U.S. Bancorp.
"They have my house, everything I own, tied up," she said.
Steve Dale, US Bank's senior vice president for media relations, promised to check into Olquin's loan, then failed to return follow-up calls from The Associated Press.
Tracy Smedley, who was listed as Olquin's loan officer on her bank papers, said she was a supervisor who signed thousands of loans and wasn't familiar with the details. At first, Smedley promised to track down the bank officials who dealt with Olquin's loan, but then referred questions to Dale instead.
Some loan recipients in Utah clearly took a financial hit after Sept. 11, 2001.
Alex Shapiro, president of Shapiro Luggage & Gifts, a family business started in 1917, took out $288,000 in loans just to keep his business afloat when customers were scarce.
"It didn't take people 15 minutes to keep their hands in their pockets and stop spending money, especially on luxury items," said Shapiro, who runs five stores in Utah, one in Boise, Idaho, and another in Tucson, Ariz. "That kept going through 2002. I needed to do something to stop the bleeding, to pay the bills."
Another business that appears to have suffered was the Little Dogs Resort & Salon in Salt Lake City.
"We do boarding, grooming and day care for little dogs. When people don't travel, they don't leave their dogs with us," said business owner Melva Kravitz, who borrowed $50,000 to cover operating expenses. "Everybody canceled their travel plans instantly. We didn't have much business for months."
But John Park, who bought Moab's Best Inn with a $1.625 million SBA loan, said he was unaware he was getting a terrorism-recovery loan, despite records showing it. He renamed the hotel Riverside Inn, and said he wasn't affected by the fallout associated with Sept. 11 because he bought the hotel only last March.
(Copyright 2005 by The Associated Press. All Rights Reserved.)
×
Most recent Utah stories