Estimated read time: 1-2 minutes
This archived news story is available only for your personal, non-commercial use. Information in the story may be outdated or superseded by additional information. Reading or replaying the story in its archived form does not constitute a republication of the story.
Sam Penrod reporting The water flows along the Santa Clara river are running above normal, but for now there is no danger.
No one here is expecting anything catastrophic, like what happened in January, but people are gearing up, for the possibility of some problems.
Gaylord Monson/Bloomington Resident: "People who are here decided to leave the sandbags until the last of the runoff."
Residents, like Gaylord Monson who live near the Virgin River, have sandbags already lined up on their property, and have piles left over from January.
The worry is that the runoff from nearly 300 percent of normal snowpack in the mountains, and the possibility of some heavy rain over the next few days could fill the Virgin River to capacity.
Washington County has a plan for any flooding, and has stockpiled more than 150- thousand sandbags in the area, just in case.
Dean Cox/Washington County Emergency Management: "Right now it's warming up and that's filling the channel, any additional moisture from rain could be problematic it doesn't have to be, we'll watch it carefully to see if it is."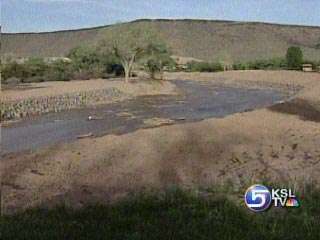 Since the devastating flooding in January, reclamation work is underway along the Santa Clara river.
Rocks are being brought in to line the riverbank to prevent a repeat of January-because it was the erosion and undercutting of the soil that caused nearly 20 homes to be washed away.
We will be watching the situation here in Southern Utah very closely over the next several days and have regular updates here on Eyewitness News.
×
Most recent News stories