Estimated read time: 5-6 minutes
This archived news story is available only for your personal, non-commercial use. Information in the story may be outdated or superseded by additional information. Reading or replaying the story in its archived form does not constitute a republication of the story.
BAGHDAD, Iraq (AP) -- U.S. soldiers fired on protesters in a town near Baghdad after the troops took automatic weapons fire, U.S. officers said Tuesday. A hospital director said 13 Iraqis were killed and 75 wounded.
Also Tuesday, two more top officials of Saddam Hussein's regime -- the former head of Iraq's top-secret missile program and the former governor of Basra province -- were reported in custody.
U.S. officials said Amer Mohammed Rashid, known to U.N. weapons inspectors as "Missile Man," surrendered Monday. He was ranked 47th on the U.S. most-wanted list of 55 members of Saddam's inner circle.
Wahid Hamed Tawfiq al-Tikriti, the former governor and a member of Saddam's clan, surrendered to the Iraqi National Congress, according to Haidar al-Moussawi, a London-based spokesman for the anti-Saddam group. U.S. military officials said they could not comment.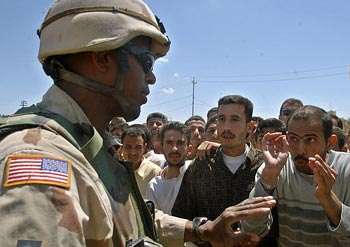 The shooting Monday night was in the town of Fallujah, about 30 miles west of Baghdad and an area where support for Saddam was strong. Col. Arnold Bray of the 82nd Airborne Division said at least seven Iraqis were hit by gunfire but neither he nor U.S. Central Command had definitive casualty figures.
"There was fire directly over the heads of soldiers on the roof. They returned fire in order to protect the lives of our soldiers," said Lt. Col. Eric Nantz.
Iraqis interviewed at the hospital insisted the demonstration was peaceful and no one was armed or throwing rocks. One wounded 18-year-old man, Aqil Khaleil, said U.S. soldiers fired without warning.
Dr. Ahmed Ghanim al-Ali, director of Fallujah General Hospital, said 13 people were killed, including three boys no older than 10. He said his medical crews were shot at when they went to retrieve the injured.
It was the third reported fatal shooting involving U.S. troops and Iraqi protesters in two weeks, underscoring the problems facing soldiers whose training focuses more on combat than crowd control.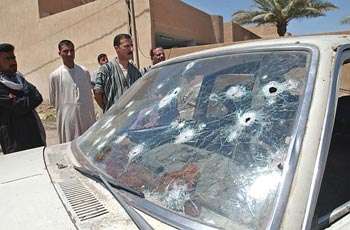 Marines opened fire during angry demonstrations April 15 and 16 in the northern city of Mosul. Iraqis said 10 people were killed in the two confrontations, although details remained unclear and the Marines insisted they only fired at people who shot at them.
However, the incidents, widely reported by Arab news media, have served to fuel growing resentment of the U.S. military presence here only weeks after the overthrow of Saddam's regime.
The U.S. troops in Fallujah were headquartered in a schoolhouse, and some of the protesters fired at the building, Bray said.
The crowd of about 200 demonstrators reportedly was objecting to the presence of U.S. troops. Some townspeople, however, said the protest was held by students ages 5 to 20 to ask the soldiers to leave the school so classes could resume Tuesday as scheduled.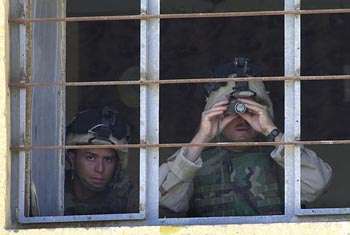 Bray insisted some of them were armed; "Ask them which kind of schoolboys carry AK-47s," he said.
U.S. soldiers said many in the crowd had AK-47 assault rifles and were firing into the air -- a common practice at boisterous events in Iraq.
Al-Tikriti, who surrendered in Baghdad, was 44th on the U.S. most-wanted list of officials of Saddam's regime (eight of clubs in the U.S. deck of cards). He was being interrogated Tuesday night by U.S. forces and Iraqi National Congress representatives, al-Moussawi said. "They will decide in the field" when to hand him over to U.S. custody, al-Moussawi said.
Rashid is a former general who oversaw Iraq's top-secret missile programs. He is married to Dr. Rihab Taha, a microbiologist known as "Dr. Germ" who was in charge of the secret Iraqi facility that weaponized anthrax and other toxic substances. She also is sought by the United States; her Baghdad house was raided by U.S. forces last month, but there was no word on her whereabouts.
Rashid was a member of Saddam's Military Industrialization Organization, the group responsible for producing Iraq's most lethal weapons.
Chief U.N. weapons inspector Hans Blix said last month that Rashid and his wife would be among "the most interesting persons" for American investigators to interrogate because of their familiarity with a range of Saddam's secret weapons programs.
In other developments Tuesday:
-- The U.S. Army announced that it will deploy up to 4,000 additional military police and infantrymen over the next 10 days in an attempt to curtail looting and lawlessness in Baghdad.
As part of the security initiative, U.S. forces are broadcasting detailed instructions to Baghdad residents. Among the directives: People cannot be in the streets from 11 p.m. to 6 a.m.; government employees must return to their jobs; all members of Saddam's Baath Party must identify themselves to coalition forces; and hospitals must stay open 24 hours a day.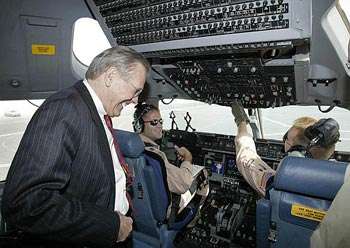 -- The world's top museum curators urged U.S. authorities to seal Iraq's borders to stop the flow of looted antiquities, a loss that one said was the worst calamity for a national art collection since World War II. "American control at the border is almost zero," said Donny George, research director of Iraq's National Museum in Baghdad.
-- U.S. military officials said the United States has moved a regional air operations center to Qatar from Prince Sultan Air Base in Saudi Arabia -- the first major step in a postwar reorganization of American forces in the Persian Gulf.
Defense Secretary Donald H. Rumsfeld, who was visiting the Prince Sultan base as part of a swing through the region, has said the United States is refocusing its military relationship with Saudi Arabia to training Saudi forces rather than stationing large numbers of U.S. troops.
-- U.S. military officials said a cease-fire with the Mujahedeen Khalq on April 15 allows the Iranian exile group that's on the U.S. list of terror organizations to keep tanks, artillery and other weapons to defend itself.
(Copyright 2003 by The Associated Press. All Rights Reserved.)
×
Most recent News stories