Estimated read time: 4-5 minutes
This archived news story is available only for your personal, non-commercial use. Information in the story may be outdated or superseded by additional information. Reading or replaying the story in its archived form does not constitute a republication of the story.
SALT LAKE CITY - Federal court Judge Clark Waddoups issued a temporary restraining order requiring county clerks in Utah's 29 counties to not release the names and addresses of people who have signed the citizens' ethics initiative petition.
The group Utahns for Ethical Government went to court Thursday morning in an effort to prevent the names of petition signers from being made public. Ethics advocates argued that signing a petition was essentially political speech and it was like voting at a voting booth. It should be private and confidential.
They feared signers of the petition would be targeted and pressured to remove their name in an effort to stop the campaign from achieving the 95,000 signatures necessary to put the issue on the ballot in November.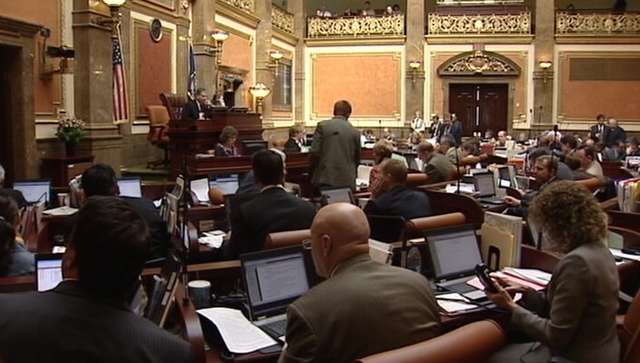 They say many people -- including many Republicans -- have signed petitions, but don't what their names public for fear of retaliation.
In arguments earlier Thursday, attorney for Utahns for Ethical Government Alan Smith said the group believes the signers are making a political statement and have a constitutional right to keep their identity secret. He likened the process to the secret ballots cast during the state's political caucuses.
The First Amendment provides protection from those petitioning their government, he said.
"I think it's speech in its purest form," Smith said.
But attorneys for the state argued it was not a private act, and that signing a petition was more like a legislative act, like a lawmaker offering legislation. State officials responded that the signers don't have First Amendment protections and don't have an expectation of privacy.
Waddoups agreed to hold off on releasing the names until larger legal issues are resolved -- including whether signing an initiative petition is an act of political speech protected by the First Amendment.
"I think that's a serious question," Waddoups said.
The group was pleased with today's decision. "Naturally we're delighted," Kim Burningham with Utahns for Ethical Government said. "Their action required the counter-action. I hope this levels the playing field."
---
Alan Smith, attorney for Utahns for Ethical Government, said they believe the signers are making a political statement and have a constitutional right to keep their identity secret.
---
David Irvine, an attorney for the group, said, "We're happy that [Waddoups] granted the TRO, and we are planning to respond to the questions that he asked on the 28th. this is just the first step in what undoubtedly will be not a short process."
"On the temporary restraining order, the standard for that is a lot less than for a preliminary injunction or for a trial," said Assistant Attorney General Thom Roberts. "As the judge indicated, he thought there were serious questions about these issues, about whether or not there are constitutional rights that are being burdened. That is the standard, serious question."
In the meantime, ethics supporters are feverishly trying to get thousands of signatures turned in by the end of the day. Even they aren't sure if they'll have the 95,000 signatures needed.
Burningham said, "I think Sunday in a press conference it was 70,000 and as of last night's tabulation we have 77,000. So that is insufficient, but that does not include all the signatures that were taken directly to the county clerks."
It also doesn't include any online signatures. In addition, they say there are likely more signatures out there that didn't go through their group because the deadline was coming quickly.
"As early as Monday of this week, we said to these people in the outlying areas, 'Don't send us any more petitions. Instead, you finish them up and take them directly to your county clerk,'" Burningham said.
Group members say they believe they're close to gathering the 95,000 signatures necessary, but it could take weeks to find out for certain.
Thursday's ruling is key because it could have a direct impact on exactly how many signatures the petition ends up with -- and ultimately if this ends up on the ballot.
Judge Waddoups has set another hearing for April 28.
Another huge legal question lingers: Should signatures gathered online be allowed? That's the next court fight in this case.
The counties need to finish their tabulations by May 15 so the lieutenant governor's office can make final calculations from a statewide database.
------
Story compiled with contributions from John Daley, Paul Nelson and The Associated Press.
×
Related stories
Most recent Utah stories