Estimated read time: 5-6 minutes
This archived news story is available only for your personal, non-commercial use. Information in the story may be outdated or superseded by additional information. Reading or replaying the story in its archived form does not constitute a republication of the story.
BAGHDAD, Iraq (AP) - Baghdad residents armed with rifles beat up looters and blockaded streets to try to quell the looting and lawlessness running rampant in the Iraqi capital. American leaders walked a fine line between alienating Iraqis with an iron fist and doing too little to stop the chaos.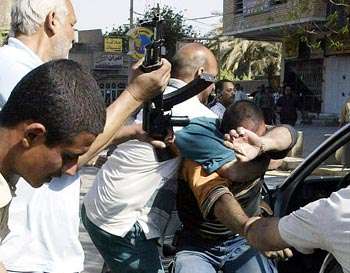 As thousands of Iraqis _ including some entire families with young children _ raided government buildings and hauled away everything from cars to refrigerators, some residents in the Karadah neighborhood set up roadblocks and checked vehicles for stolen goods.
Suspected thieves were pulled out, beaten and thrown into an alley in the neighborhood southeast of the city center. Some pleaded with U.S. troops to help stop the looting.
Elsewhere, U.S. forces ransacked Iraq's military intelligence headquarters and other sites across Baghdad for what Iraqis told them were hundreds of political prisoners trapped in underground cells.
When the soldiers' search of the abandoned military complex yielded nothing, desperate relatives took up the hunt, shouting, tearing at the earth with their fingers, clawing at concrete drain covers with crowbars.
Fighting had dwindled to occasional bursts of machine-gun fire but American troops were still on high alert for ambushes and suicide attacks by fighters loyal to President Saddam Hussein.
"There's still plenty of fighting to be done," U.S. Lt. Gen. William S. Wallace, the Army's V Corps commander, told The Associated Press.
Fears of suicide attacks were evident and several people were killed in a series of shootings at U.S. military checkpoints when vehicles refused to stop. Two children died in Nasiriyah and three adults were killed in a separate incident in Baghdad.
In another incident in Baghdad, a tank crew opened fire on a bus that failed to heed warning shots. The driver was killed, and the crew said it found Iraqi military uniforms inside the vehicle.
A number of government ministries _ trade, education, industry and planning _ were looted and set on fire. One of the city's main markets smoldered.
People raided the nursing college at Baghdad University as well as the Engineering College. Looters left with light fixtures, desks, water coolers and air conditioners.
Three men stood on the roof of the German Embassy unscrewing a large satellite dish. Sofas, tables, chairs, electronic equipment and a refrigerator were taken from the Information Ministry.
Abu Dhabi television showed footage that it said was Information Minister Mohammed Saeed al-Sahhaf's trashed office at the ministry and his Mercedes limousine stripped of its lights.
Cars were stolen off the streets. If the thieves could not start the engines, they towed the cars away.
Bands of looters roamed residential areas, casing homes to see if the residents were home. Journalists trying to talk to the looters were robbed of money and cameras.
In al-Kadamiya, residents in the mostly Shiite neighborhood wrote a letter thanking coalition forces but urging security and humanitarian help. They also sought the arrests of Saddam and the leaders of his government, and the release of Iraqi prisoners in their letter.
"Tell the Americans to stop the killing and the looting. We can't live like this much longer, with Muslims looting other Muslims," 41-year-old Jabryah Aziz said in another part of Baghdad. "I need to feel safe so I can go and collect my food ration."
In the Al-Mansour district in western Baghdad, pro-Saddam bands of Arab volunteers manned sandbagged positions, armed with rocket-propelled grenades and Kalashnikov rifles. Residents said they were mostly Syrians.
In Saddam City, mosque minarets urged Iraqis to stop looting and destroying their city. Some people heeded the clerics' calls and brought stolen goods to mosques for safekeeping.
U.S. authorities say their top priority, for now, must be fighting the war and the logistics of building new law enforcement agencies are daunting.
American troops tote extraordinarily powerful weaponry in the streets of Iraqi cities, but they hew to rules that they must avoid deadly force against looters.
And they insist that the current chaos is a phase that will pass. "I think what you're seeing is on the way to freedom, the reaction of the people to oppression," White House spokesman Ari Fleischer said.
U.S. Defense Secretary Donald Rumsfeld insisted that "we do feel an obligation to assist in providing security, and coalition forces are doing that. Where they see looting, they are stopping it."
But on the streets of Baghdad, Iraqis carried televisions, air conditioners, tools, office furniture, potted flowers while waving to American soldiers who stood by impassively.
"We'll maintain security as well as we can, but we are not a police force," said Col. Steve Hummer, commanding officer of the 7th Marines.
U.S. Marines were starting to enforce a dusk-to-dawn curfew in the capital in an effort to halt the widespread looting.
Taleb Abdel-Razaq, who works in a coffee shop, stood in central Baghdad and watched looters coming out of government departments and stores with their plunder
"I cannot believe it. Are these really Iraqis?" he said. "What happened to their honor and their patriotism? This is our country. How could they do this? If they have to loot, fine. But why should they torch everywhere they go?"
Lines were long outside bakeries and garbage piled up on the streets along with debris from three days of looting. Power was still out, and running water was available in most areas but the supply was irregular.
Columns of American tanks and Humvees rumbled through downtown streets, tearing up the smooth avenues that were a hallmark of the Saddam regime and leaving deep ruts.
At the Al-Rashid Hotel, Americans troops traded a doormat of former U.S. President George Bush with one of Saddam. U.S. troops also hammered on the toppled statue of Saddam in a central square, breaking off pieces as souvenirs.
(Copyright 2003 The Associated Press. All rights reserved.)
×
Most recent News stories