Estimated read time: 2-3 minutes
This archived news story is available only for your personal, non-commercial use. Information in the story may be outdated or superseded by additional information. Reading or replaying the story in its archived form does not constitute a republication of the story.
SALT LAKE CITY -- The Salt Lake County mayor, along with other ethics reform advocates, is urging Utahns to sign petitions to get several issues on the November ballot.
With just four days left until the deadline to gather 95,000 signatures, time is running out. The group Utahns for Ethical Government still needs some 20,000 signatures.
"Frankly, time is running out," said group member Kim Burmingham. "Days are left."
Several government leaders for ethics and redistricting reform gathered at the Salt Lake City Library Sunday afternoon. They wanted to encourage people to sign their petitions while there's still time.
Utahns for Ethical Government is trying to get petitions for both ethics reform and fair boundaries on this fall's ballot. They need to collect 95,000 signatures from registered voters by April 15.
Right now, they have about 75,000, falling well short of the requirement.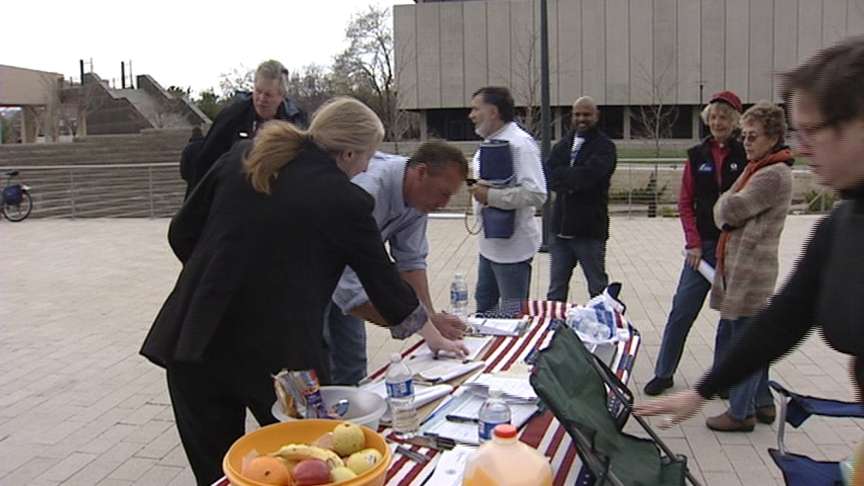 "We are not stopping today," said Burmingham. "The goal is in sight and we intend to reach it. We are absolutely not throwing in the towel."
The ethics measure would set up an independent ethics commission and a code of conduct for lawmakers. It would ban gifts from lobbyists and set strict campaign contribution limits.
Right now, Utah has no limits.
---
The goal is in sight and we intend to reach it. We are absolutely not throwing in the towel.
–Kim Burmingham
---
But opponents say this isn't the right way to go about accomplishing the goal.
"Don't sign the petition until you've read those 21 pages because it's not what it's purported to be," said Rep. Carl Wimmer. "It changes the balance of innocent until proven guilty. You're now guilty until proven innocent, and it brings in Chicago-style politics that is not Utah. We're better than this."
The other petition in circulation is headed by the citizens group Fair Boundaries. If passed, the measure would remove state lawmakers from the process of redrawing political boundaries and give that power to a non-partisan commission instead.
It would also set up anti-gerrymadering standards and require an open and transparent process.
Advocates say lawmakers have controlled their voting districts for too long.
"They are afraid of losing their strangle hold over Utah voters. Undo gerrymandering. Sign the petition today!" said Mary Bishop with Fair Boundaries.
In addition to the 95,000 signature requirement, 26 of 29 Senate districts must get signatures from 10 percent of those who voted in the last gubernatorial election.
To sign the petition online, [CLICK HERE].
Gov. Gary Herbert signed a bill into law last month that makes it easier for Utahns to remove their names from a statewide initiative or referendum petition. The bill was largely intended to keep the citizens ethics initiative from ever reaching the ballot.
E-mail: ngonzales@ksl.com
×
Related links
Related stories
Most recent Utah stories