Estimated read time: 7-8 minutes
This archived news story is available only for your personal, non-commercial use. Information in the story may be outdated or superseded by additional information. Reading or replaying the story in its archived form does not constitute a republication of the story.
RIYADH, Saudi Arabia (AP) -- Saudi authorities linked a 19-member al-Qaida team Tuesday to carnage at three foreign compounds in the capital -- multiple, simultaneous car bombings that killed at least 30 people, including eight Americans.
Nine attackers were among the dead. Another 194 people were wounded, most of them not seriously, according to Saudi officials; 40 were said to be Americans.
"These despicable acts were committed by killers whose only faith is hate, and the United States will find the killers, and they will learn the meaning of American justice," President Bush said.
In a statement posted on the Saudi Press Agency Web site, the Interior Ministry described the attacks as "suicide operations" and said the nine bodies found in the location of the explosions were those of "the terrorists."
The FBI said it would send agents to join the investigation. Though no one claimed responsibility for the attacks, Secretary of State Colin Powell, who arrived in Saudi Arabia for an official visit hours after the blasts, said they had "the fingerprints of al-Qaida."
Saudi authorities made a direct connection between the attacks and a May 6 gunfight between police and 19 al-Qaida operatives in the same part of Riyadh where the bombings occurred.
"The only information we have is that some of them were members of the group that was sought a few days ago, the 19 fellows whose pictures came out in the press," Prince Turki al-Faisal, Saudi Arabia's ambassador to Britain and a former Saudi intelligence chief, said in London.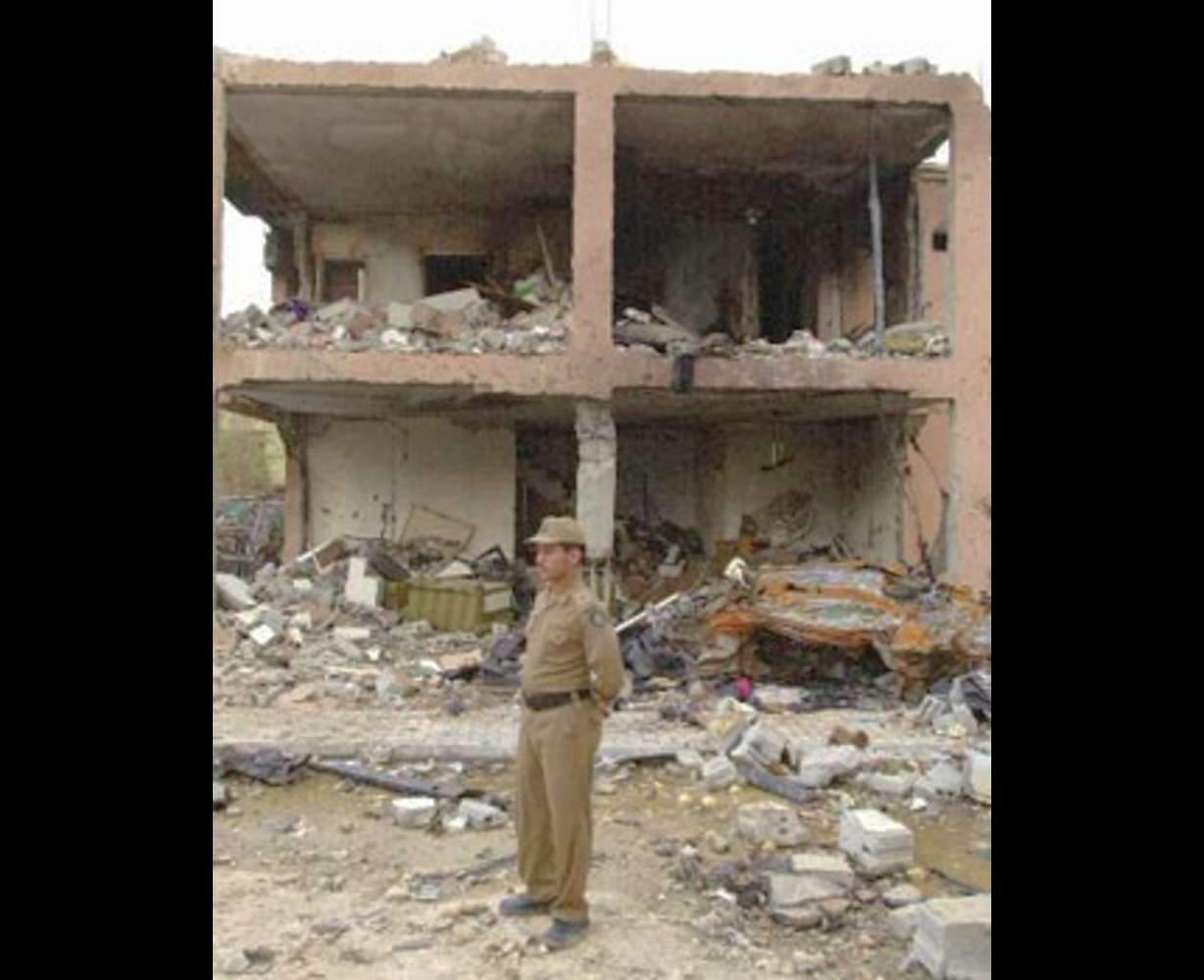 The 19 escaped. Among them were 17 Saudis, a Yemeni, and an Iraqi with Kuwaiti and Canadian citizenship. The interior minister, Prince Nayef, said they were believed to take orders directly from Osama bin Laden, mastermind of the attacks on the World Trade Center and the Pentagon.
Authorities confiscated their cache -- hand grenades, five suitcases of explosives, rifles and ammunition, as well as computers, communications equipment and cash.
At that time, Nayef said al-Qaida was "weak and almost nonexistent."
If Monday's bombings were the work of al-Qaida, it would mean that a terrorist organization that bore the brunt of American military might in Afghanistan is still capable of mounting coordinated attacks, even in one of the world's most tightly policed countries.
Nayef, speaking to the daily Okaz, did not rule out the possibility of more attacks.
"I don't rule out anything. We must not sit back and say this will not happen," he said. "This is life, and incidents occur in every country and we are in a period of anxiety and terror acts. The kingdom is one of the countries being targeted." The multi-pronged, synchronized nature of Monday's bombings recalled the events of Sept. 11, 2001.
On Monday night, it took the bombers 30 seconds to a minute to get through an iron gate, drive up to the building and detonate explosives, said a senior administration official on the plane of Secretary of State Colin Powell.
After killing the sentries, the bombers pushed the button that opened the iron gate to the compound.
"They had to know where the switches were," said the official, suggesting the terrorists had inside information.
The al-Hamra, Jadawal and Vinnell compounds -- all within 10 miles of each other in northeastern Riyadh, the last two a half-mile apart -- house business executives, oil industry professionals and teachers.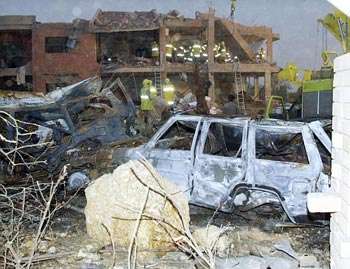 Behind their 20-foot walls women need not wear enveloping robes, American and European children ride their bikes in the street, backyard barbecues are common and houses are decorated for Christmas and Halloween.
At around 11:30 p.m. Monday, witnesses reported, there was gunfire and a series of explosions.
"I thought the door was going to come off its hinges," said Patrick Amour, a French executive who lives a quarter-mile from al-Hamra.
Amour said he heard three explosions: One loud one from al-Hamra and others more faintly from the two other compounds. They "went off within three seconds, less than three seconds, as if it were an echo," he said.
The blasts were "absolutely terrifying," one Scottish survivor, John Gardiner, told the British Broadcasting Corp.
"All the doors came in, the external doors, the internal doors, all the windows, and the next thing I knew I was lying on my back in shattered glass," he said.
It was not clear how many cars were used. A guard at one of the housing compounds told al-Watan newspaper that seven cars exploded there, all apparently carrying suicide bombers.
Facades of five- and four- story buildings were sheared off, revealing apartment interiors, their contents swept out by the blasts.
One explosion near al-Hamra's recreation facility left a crater 20 feet across. Several cars and six or seven single-family homes within 50 yards of the blast were destroyed and debris -- shredded, charred shreds of cars and furniture, melted patio chairs, uprooted palm trees -- was scattered another 25 or 30 yards.
In a televised address to his people, Crown Prince Abdullah, quoting from the Quran, said "hellfire" awaits the attackers.
Seven Saudis were listed among the dead, including Mohammed Abdullah al-Blaihed, a son of Riyadh's deputy governor Abdullah al-Blaihed. The elder al-Blaihed owned the al-Hamra compound.
The Saudis said the others who died included two Jordanians, two Filipinos, one Lebanese and one Swiss.
Saudi Arabia has a large population of expatriate workers, including about 35,000 Americans.
Late Tuesday the State Department said eight Americans had died in the attacks. Seven American victims lived in a single, four-story building. Details on the location of the eighth victim were not given. Seventy Americans who worked for the Vinnell Corp., a Virginia company with a contract to train Saudi military and civilian officials, lived there; by chance, 50 were away on a training exercise.
The eight deaths are the highest American death toll in terror attacks since Sept. 11. Seven Americans were among the more than 200 people killed last October in twin bombings in Bali, Indonesia.
There had been indications that a terrorist attack might be imminent. A counterterrorism official in Washington said information from the past two weeks indicated al-Qaida had been planning a strike in Saudi Arabia.
Earlier this month, the State Department advised Americans to avoid travel to Saudi Arabia because of increased terrorism concerns, and the U.S. Embassy said it had information that terrorists were completing plans to attack American interests in the country.
In a series of e-mails Saturday and Sunday, a man who said he was the head of an al-Qaida training camp, Abu Mohammed Al-Ablaj, or Mullah Seif el Din, told the Arabic weekly Al Majalla that the group was planning an attack in the Persian Gulf using weapons and ammunition stored there.
The operative is also known as Abu Bakr, and his real name is Ali Abd al-Rahman al-Faqasi al-Ghamdi, U.S. officials said. He is a Saudi who is active in al-Qaida's operations in that country.
This came after the seizure of the weapons cache in Riyadh. Nayef, the interior minister, said those weapons were to be used to attack the Saudi royal family and American and British interests.
He told al-Watan that one suspect surrendered in connection with the weapons -- it was unclear when -- and was being interrogated about Monday's explosions. So far he had offered "limited information," Nayef said.
Saudi officials almost immediately gave the FBI team permission to participate in the investigation into the bombings.
But there has been friction between Saudi and American law enforcement in the past -- in the aftermath of the 1996 Khobar Tower bombings that killed 19 U.S. servicemen, Saudi police would not allow FBI agents to interrogate suspects.
There were fears that Monday's attacks were a prelude to more violence. State Department officials said the American school in Riyadh would be closed and advised Americans to remain at home.
Britain advised its citizens not to travel to Saudi Arabia unless absolutely necessary. In a statement posted on its Web site, the Foreign Office said there remained a "high threat" of further strikes and warned of the possibility of chemical and biological attacks.
(Copyright 2003 by The Associated Press. All Rights Reserved.)
×
Most recent News stories