Estimated read time: 1-2 minutes
This archived news story is available only for your personal, non-commercial use. Information in the story may be outdated or superseded by additional information. Reading or replaying the story in its archived form does not constitute a republication of the story.
Sandra Yi Reporting
A trial date has been set for one of Elizabeth Smart's accused kidnappers. Brian David Mitchell entered a plea this morning for each of the six felony counts against him.
Brian David Mitchell quietly stood before the judge in handcuffs as she read the charges against him. He responded 'not guilty', to each of the charges he faces in the kidnapping of Elizabeth Smart.
Yesterday a judge unsealed a grand jury indictment against Mitchell. That indictment had been kept under wraps for a year. Mitchell is charged with six felony counts. They are: two counts of aggravated burglary, aggravated kidnapping, two counts of aggravated sexual assault and conspiracy to commit aggravated kidnapping.
On Tuesday, a judge found him competent to stand trial. In court this morning, defense attorneys objected to the indictment and requested a preliminary hearing. The judge denied that request. Mitchell's attorneys say they plan to file motions in the case.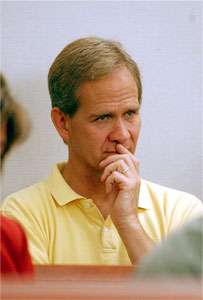 Meantime, the judge set aside three weeks for the trial date, which was scheduled for February 2005.
Elizabeth Smart's father Ed Smart attended the hearing, sighing and shaking his head when Mitchell pleaded not guilty to the two sexual abuse charges.
Smart did not speak to reporters following the hearing and prosecutors and defense attorneys also did not comment after the hearing.
Mitchell's wife and alleged accomplice Wanda Barzee faces the same charges, but she was found incompetent to stand trial and is getting treatment at a hospital.
(The Associated Press contributed to this story)
×
Most recent News stories