Estimated read time: 3-4 minutes
This archived news story is available only for your personal, non-commercial use. Information in the story may be outdated or superseded by additional information. Reading or replaying the story in its archived form does not constitute a republication of the story.
SANDY -- A Sandy family arrived home Thursday night to find a giant hole in their house and a truck inside their master bedroom.
Police say a 16-year-old driver looked away from the road just as his westbound pickup truck approached the end of Silver Sage Drive (10825 South) where it came to a T at Savannah Drive (740 East) around 7:30 p.m. By then it was too late, and the truck hit the house across the street.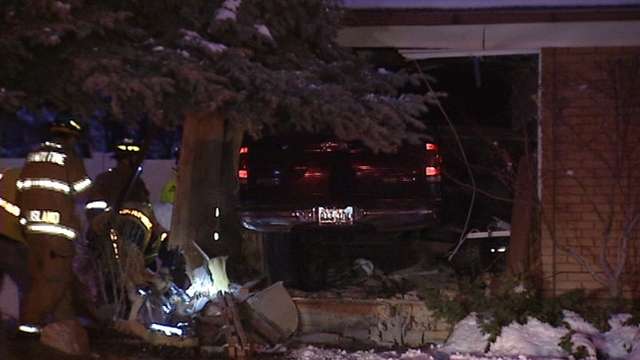 Two friends were passengers in the truck. One of them realized the driver was distracted and where the truck was headed, so they jerked the wheel to the right. In a panic, the driver then jerked it back to the left. Instead of hitting the brake, he hit the accelerator, which launched the truck directly into the house.
Sandy police say the truck was going about 40 mph when it hit the home. They say it's fortunate the family wasn't home when it happened because had someone been inside either of the two bedrooms where the truck came to a stop, they could have been seriously injured.
Lt. Bill O'Neal with the Sandy Police Department said, "They're very lucky they weren't in there. As you can see, the vehicle is totally inside the master bedroom. Nobody was home at the time, so it was a very lucky thing no one was injured."
When the truck hit the house it broke a gas line. As a precaution, police evacuated the surrounding homes until crews shut off the gas. After about 30 minutes those neighbors were allowed to return to their homes.
One neighbor told KSL Friday morning it was frightening waiting to find out if their neighbors were OK.
Nicki Forbes said, "I was crying because I thought my neighbors were inside the house. We're very close to them. They're like grandparents to me."
Police say they still don't know how much damage was caused to the house, but it appears that an entire corner of it is missing. Neighbors say the damage is just as bad inside, if not worse.
Police say it doesn't appear any of the teens were under the influence of drugs or alcohol when the crash occurred. Thursday night they were all able to walk away, however the driver suffered a few cuts to his face and hands.
Police say he is the only one who will be cited for negligent collision.
------
Story compiled with contributions from Shara Park and Andrew Adams.
×
Photos
Most recent Utah stories