Estimated read time: 1-2 minutes
This archived news story is available only for your personal, non-commercial use. Information in the story may be outdated or superseded by additional information. Reading or replaying the story in its archived form does not constitute a republication of the story.
Salt Lake County Mayor Peter Corroon was sworn in for his second term today. He took the occasion to recount accomplishments in the past four years, but he also said there is a lot more to do.
Corroon gave credit to the county's 8,000 full-time and part-time employees, saying he hopes the more than 1 million county residents will have a better quality of life in the next four years.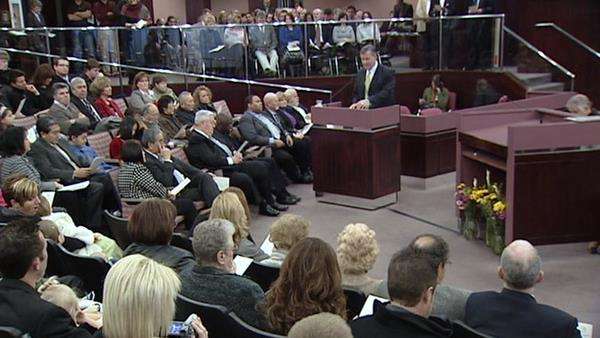 After taking the oath of office, he told the crowd that government only works if elected officials listen to the citizens and he wants that to continue. In the next four years, he said, county residents will have new libraries and new senior centers and new recreation facilities, parks and trails are nearing completion now.
There is much to do, he says, to improve the economy. "We will have new commuter rail, new light-rail lines and new road projects under planning and construction. The next four years is the time for all our cities to come together to work collectively, to continue to plan together for our growth," Corroon said.
"Mayor Corroon has established a progressive vision of creating a county government that protects our environment and provides educational, recreational and cultural opportunities for our families and promotes our local economy, while advancing public safety and practicing fiscal responsibility," said Nicole Adams Dunn, Salt Lake County's new deputy mayor.
Dunn was also sworn in, thanking Mayor Corroon for asking her to serve.
Four county council members also took their oaths of office today, expressing gratitude to family, supporters and the voters. Returning council member Randy Horiuchi said county governments don't get a lot of attention, but they provide the services that make most people's lives safer and easier.
E-mail: cmikita@ksl.com
×
Most recent Politics stories