Estimated read time: 2-3 minutes
This archived news story is available only for your personal, non-commercial use. Information in the story may be outdated or superseded by additional information. Reading or replaying the story in its archived form does not constitute a republication of the story.
SALT LAKE CITY -- An unusual public brawl has erupted over the volatile issue of radioactive waste. EnergySolutions took off the gloves over the weekend with a fiery TV ad aimed directly at Utah's 2nd District Congressman Jim Matheson.
"I am not familiar with a Utah company ever taking out a commercial against an elected official in Utah before," Matheson said at a Wednesday morning news conference.
"We will correct every misrepresentation, every falsehood and every groundless attack against our company," said Val Christensen, president and CEO of EnergySolutions. He held a rival news conference an hour after Matheson spoke to the media.
EnergySolutions has battled public skepticism and occasional roadblocks from politicians for years without getting into a brawl like this. Something snapped. They decided to take on Congressman Matheson directly.
The issue swirls around EnergySolutions' hope of generating millions of dollars in revenue by burying low-level nuclear waste from Italy at the company's landfill in Tooele County.
"We do it safely and we do it with no risk to the environment or human beings," Christensen said.
But Matheson has shepherded a bill through the U.S. House of Representatives that would block the Italian waste.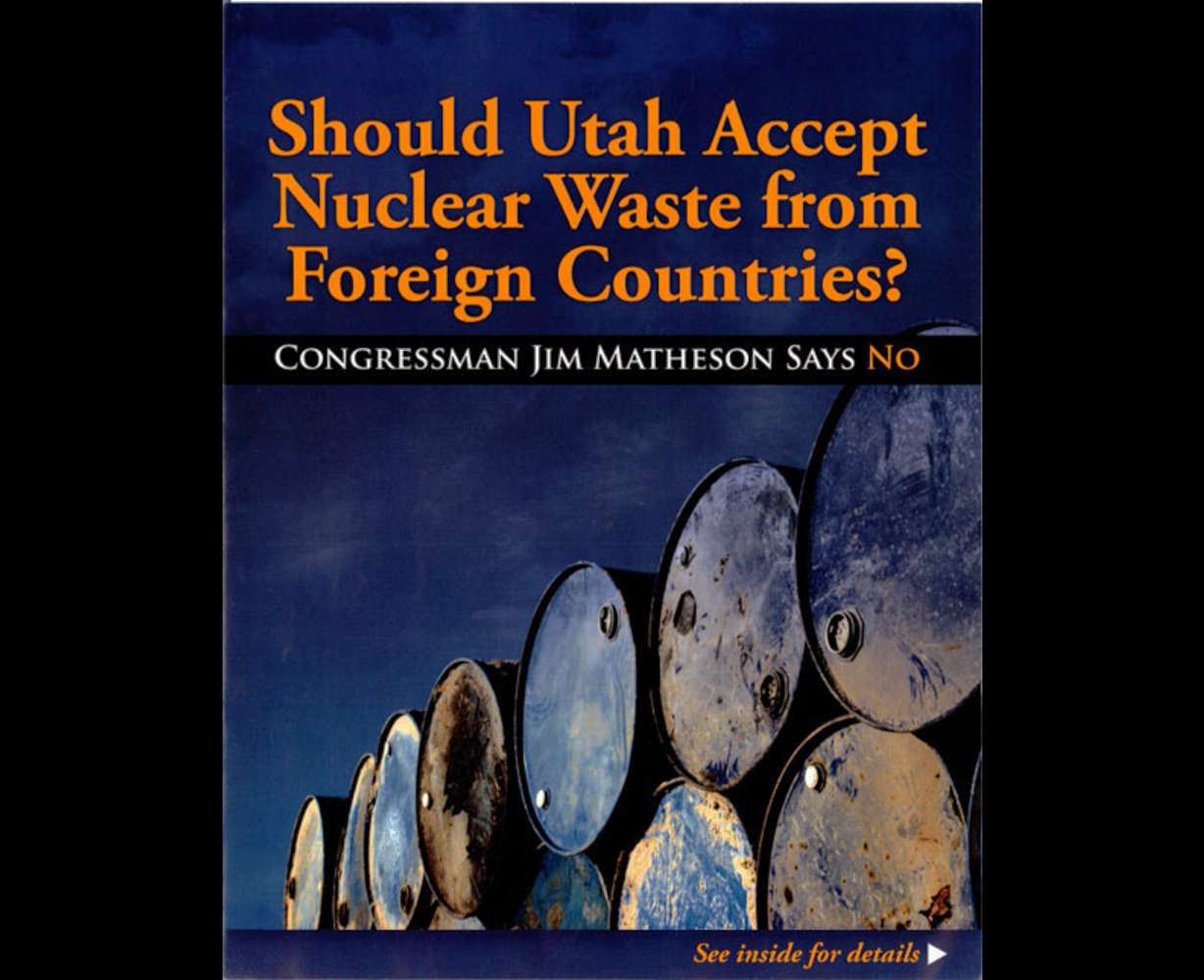 "No other country in the world takes another country's radioactive waste," Matheson said. "I don't think we should either."
The company was provoked by a four-page mailer Matheson sent to constituents. Christensen charged that the mailer was intended "to incite fear and anger directed at EnergySolutions." The company broadcast a TV ad over the weekend which said, in part, "Matheson's recent mailer uses half-truths, misstatements and fear-mongering to continue his mission of tearing down EnergySolutions."
The congressman responded, "If this is some effort to try to intimidate me or change what I'm doing, that's just not going to happen."
The ad sounds like and looks like a campaign attack ad. It portrays Matheson as anti-business and repeatedly ties him to the dreaded "L" word: Liberal.
"Matheson has aligned with radical liberal groups," the ad charges.
In rebuttal, Matheson pointed out that Republicans, including former Gov. Jon Huntsman, Gov. Gary Herbert and Rep. Jason Chaffetz, share his position on Italian waste.
"I don't think any of them are being criticized for being anti-business, anti-job," Matheson said. "I haven't seen that commercial yet about our governor or Congressman Chaffetz."
"The only ads that we will spend any money on," Christensen said, "are ads to correct misstatements made by him or anyone else that damage our company and mislead Utahns about who we are."
"I think saying I'm anti-business, anti-trade, anti-jobs is a little much," Matheson said.
The battle continues. The Senate still has to vote on Matheson's bill that would ban imports of nuclear waste.
------
Compiled with information from John Hollenhorst and Mary Richards
×
Related links
Most recent Politics stories