Estimated read time: 3-4 minutes
This archived news story is available only for your personal, non-commercial use. Information in the story may be outdated or superseded by additional information. Reading or replaying the story in its archived form does not constitute a republication of the story.
SALT LAKE CITY -- Thousands of public employees including teachers, police officers, firefighters and retirees rallied at the Utah State Capitol Saturday, urging lawmakers against a massive restructuring of retirement benefits.
Several bills will go before the Legislature this session with proposed cuts to the current pension system, 401(k) matching and changes to the practice known as "double dipping."
A lawmaker sponsoring two of those bills says changes are needed to prevent a catastrophe, but those at the rally have huge concerns.
Public employees who gathered at the Capitol Saturday are worried lawmakers are proceeding too quickly with those changes without really studying the issues. They feel the changes could hurt the recruitment of quality employees in the future.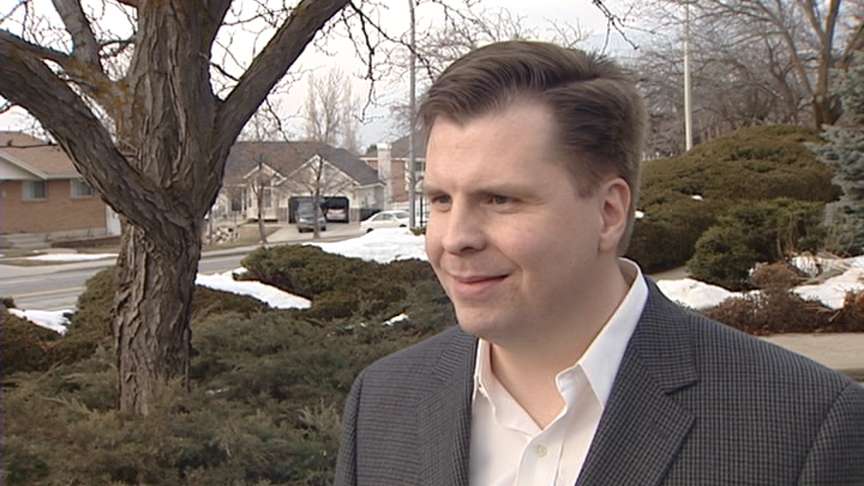 The theme of the rally was "Proceed with Caution," something the thousands in attendance hope is heeded by the legislature.
"We're saying let's slow it down, let's let it right out, let's study the issues before we bite off all these changes," says elementary school teacher Sharon Gallagher-Fishbauth.
At issue is the state retirement system for public employees, a group of 180,000 current employees as well as retirees.
Sen. Dan Liljenquist, R-Bountiful, has proposed a set of bills that would cut pension system benefits for new employees and do away with the existing 1.5 percent 401(k) match.
If these bills pass, public employees hired after July 1, 2011 would not be eligible for the current pension system plan. Instead, they could either put 8 percent of their salary into a 401(k) type of program or put part of it into a defined benefit pension plan with greatly reduced benefits.
For many Utah teachers who deal with some of the lowest salaries in the nation as well as some of the largest class sizes, further cuts would be too much.
"We want to make the teaching profession an attractive career, an attractive place to be," says Tom Neberberg, technology director for the Tintic School District. "We want people to want to be teachers. If you take away benefits it's hard for teachers to want to come and commit to the profession."
Chad Soffe, president of the Utah State Lodge of the Fraternal Order of Police, spoke to the crowd, expressing frustration at what he sees as a lack of research by legislators sponsoring the bills.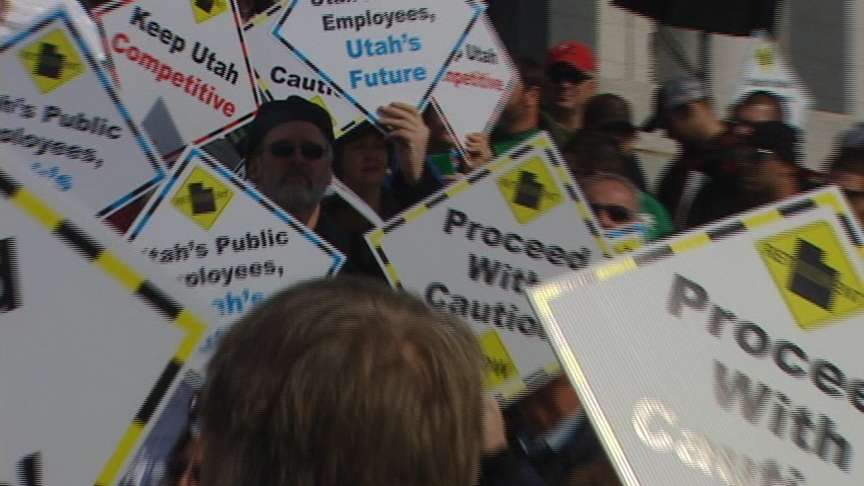 "The system is not on the verge of failure and will not collapse from the recent unfortunate economic events," Soffe says.
However, Sen. Liljenquist, a sponsor of two bills, disagrees.
"The losses that we took in 2008 blew a $6.5 billion hole into the retirement system," he says.
Liljenquist says his bills would ensure the longevity of a retirement system for public employees. He believes wages would need to increase to make up for the cut to benefits.
"But wage, we'll know what we're getting up front and won't be putting our state budgets at risk based on what happens on Wall Street," Liljenquist says.
The bills in question are scheduled to go before the Senate Retirement and Independent Entities Committee Wednesday. Those at the rally want lawmakers to appoint a special task force to consider all sides of the issue before moving forward.
Liljenquist says an independent actuary review is scheduled for May or June.
E-mail: sdallof@ksl.com
×
Related stories
Most recent Politics stories