Estimated read time: 3-4 minutes
This archived news story is available only for your personal, non-commercial use. Information in the story may be outdated or superseded by additional information. Reading or replaying the story in its archived form does not constitute a republication of the story.
Shelley Osterloh Reporting Researchers have found stress to be at the root of many problems. Some people believe that avoiding stress could be a simple as breathing.
It's called the Art of Living. It is about using yoga breathing techniques to regulate energy, relieve stress and handle emotions. Tens of thousands have learned the techniques here in the U.S., and there are ongoing workshops here in Utah. Those who practice it daily for about 25 minutes say it has changed their lives.
Poonam Tandon travels the world teaching people the Art of Living, a powerful breathing technique that is said to eliminate physical and emotional impurities. She says breathing is the link between the mind, the body and activity.
When people are emotional, such as angry, the breath changes. "When you use the breath, you are able to harness the mind and gain control of your emotions, and it gives a lot of freedom actually in being able to do that," Tandon said.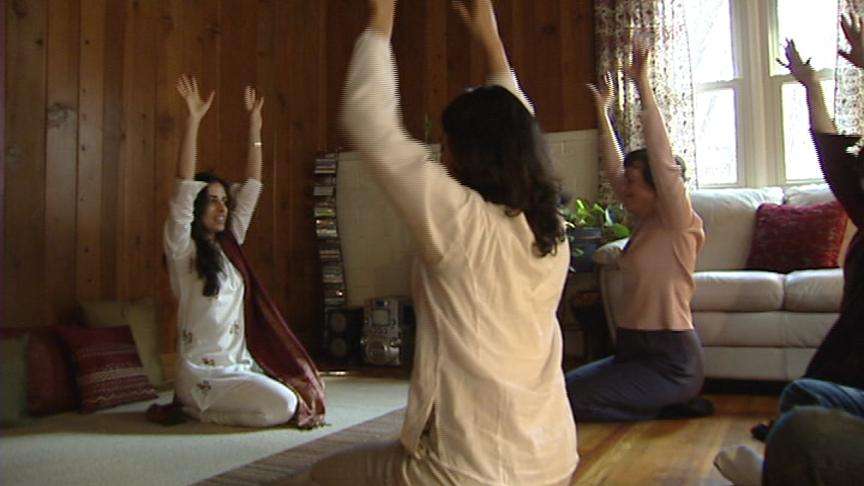 Shalini Bahl uses the techniques and teaches marketing at the U. She found her students and others benefited greatly from the techniques. "We are teaching all these things to the students, like marketing and finance they learn math and science, but they are not really taught how to deal with life. To deal with emotions and so forth," Bahl said. Now she helps organize workshops.
Those who practice the techniques say they can help people of all cultures ages and faiths. University of Massachusetts professor George Milne said, "I think the breathing technique has made me obviously a lot more calm. Its really had big impacts on my work. I've really been able to slow down my mind and focus my energy on the things I need to do." Sara Fix, a hospice worker, also says it has improved her life. "It's changed my life, and I've been able to contribute so much because of it," Fix said.
Students take a 20-hour workshop to learn the basics, but doing the breathing exercises every day, they say, can heal the mind and body of many ailments. Tandon said, "Learning how to deal with our emotions and how to take the steps toward achieving our goals is something everybody could use. It is the art of living, learning how to live artfully, fully".
One week from tomorrow, the founder of the Art of Living Foundation will be here in Utah. Sri Sri Ravi Shankar will be speaking at the University Park Marriot Hotel. It's part of a U.S. tour to launch a campaign to create a Violence Free, Stress Free America. And there are ongoing workshops here in Utah.
Leading Into the Light: An Evening of Knowledge, Meditation, and Celebration with HH Sri Sri Ravi Shankar (Founder of the Art of Living Foundation) on March 30, 6:30 pm-9:00 p.m., Hotel Marriott, University Park
The Yoga of Breath: An introductory seminar on the Art of Living workshop April 10 6:30 p.m. at the Wild Oats, 645 East 400 South.
The Art of Living workshop: April 20-25 at the University Guest House, 110S Fort Douglas Boulevard
For more information, visit the links to the right.
×
Related links
Most recent Utah stories