Estimated read time: 4-5 minutes
This archived news story is available only for your personal, non-commercial use. Information in the story may be outdated or superseded by additional information. Reading or replaying the story in its archived form does not constitute a republication of the story.
SALT LAKE CITY (AP) -- When the floods after Hurricane Katrina hit New Orleans, Phillip Clay and his 87-year-old mother swam and walked their way to shelter at the Louisiana Superdome.
Saturday they walked off an airplane to a temporary life in Utah.
"I'm happy to be in Utah," he told The Associated Press in a telephone interview from the tarmac at the Air National Guard base in Salt Lake City. "I had to swim, walk through water neck high. ... It's devastating."

Like thousands from New Orleans, Clay, 48, lost everything last week -- his house, car and other possessions. He doesn't know when he'll go back, or if he'll have his job at the Superdome when he returns.
Clay was among the 150 refugees who arrived in Utah just after 7 p.m. Saturday on a chartered Jet Blue airliner out of Louis Armstrong International Airport in New Orleans. He and his mother were airlifted by helicopter from the Superdome to the airport and thought they were bound for San Antonio. Travel plans were changed mid-flight, routing evacuees here.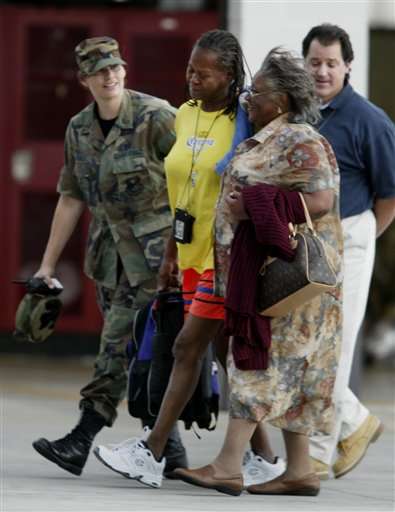 Refugee Beverly Pugh said it didn't really matter to her where the plane landed.
"Not the way we was living, not in the conditions were in," the 40-year-old chef said.
Pugh who, along with seven others from her neighborhood, was rescued by a friend with a boat, said she spent the last four days sleeping on the floor at the New Orleans convention center.
"It was awful," she said.
Now she's hoping to begin to rebuild a life and reconnect with her two sons, ages 20 and 22, from whom she was separated in the aftermath of the disaster.
The plane carried families and individuals of all ages, including about 30 people over age 65 and 15 people who were using wheelchairs.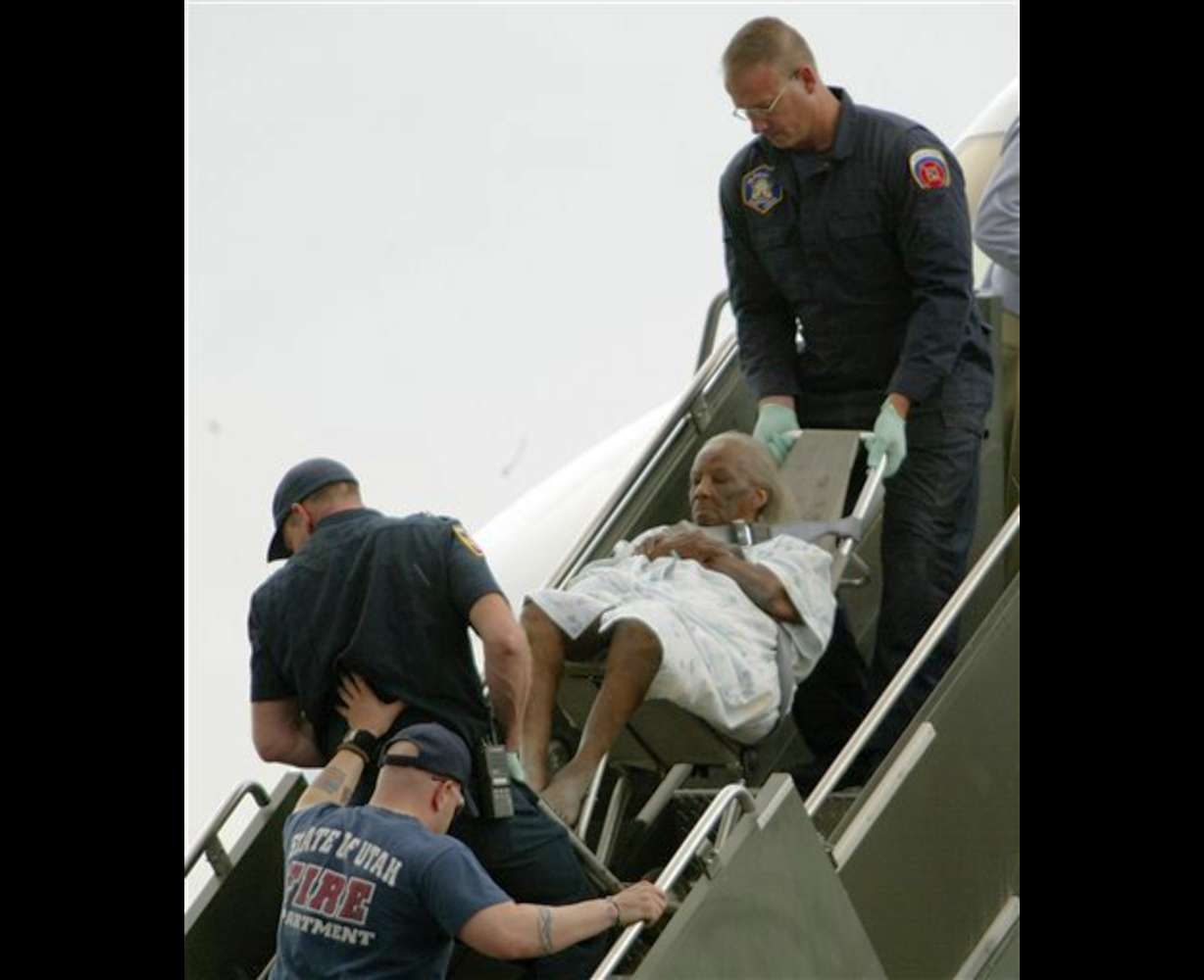 They were greeted with applause and handshakes on the tarmac by Air and Army National Guard officials, some local religious leaders, representatives of the Utah governor's office and state Rep. Duane Bourdeaux, D-Salt Lake.
Evacuees were first given a health screening, followed by food and water, National Guard Lt. Col. Kurt Davis said.
At least one person was immediately transported to LDS Hospital for additional medical attention, hospital spokesman Jeff Gomez said.
Five buses were standing by to transport the group to the National Guard's Camp Williams where they will be temporarily housed.
Three additional planes from the storm-ravaged Gulf Coast were expected late tonight or tomorrow, Davis said. Each of the KC-135 guard planes will be carrying 50 refugees, bringing the expected total number of refugees to about 300.
Davis did not know if evacuee flights would continue Sunday, but said he knew Jet Blue crews were planning for additional flights to Utah.
Gov. Jon Huntsman has said Utah could shelter up to 2,000 refugees.
The governor has declared a state of emergency in Utah, allocating $5 million to cover the costs of emergency operations here. Huntsman also sent a letter to President Bush, asking for a federal emergency designation, which if signed could ensure Utah is reimbursed for its expenses from federal disaster relief funds.
State and local officials are setting up an emergency services center at Camp Williams, so refugees can access counseling, religious support, get clothing, health care, child care and employment services. The Jordan School District is also working to get any children evacuated enrolled in local schools.
Also on Saturday, the national Best Friends Animal Society, based in Kanab, Utah, said they were working with animal control officers in the New Orleans area to collect stray and abandoned animals. The animals will be taken to St. Francis Animal Sanctuary in Tylertown, Miss., Best Friends spokeswoman Barbara Williams said.
Best Friends members across the country are offering to give the animal shelter homes and every effort will be made to reunite families with their pets, she said.
Volunteers from The Church of Jesus Christ of Latter-day Saints on Saturday gathered at the LDS Humanitarian Center in Salt Lake to assemble more than 50,000 hygiene kits for hurricane victims. Plastic bags were stuffed with toothbrushes and toothpaste, combs, soap, washcloths and hand towels. The supplies will be shipped to a church-owned storehouse in Georgia for distribution.
(Copyright 2005 by The Associated Press. All Rights Reserved.)
×
Most recent Utah stories