Estimated read time: 3-4 minutes
This archived news story is available only for your personal, non-commercial use. Information in the story may be outdated or superseded by additional information. Reading or replaying the story in its archived form does not constitute a republication of the story.
WEST VALLEY CITY -- A teenage girl is the latest person to be shot by a BB gun in what appear to be random shootings throughout the Salt Lake Valley. Police say 21 people have been hit in the past two weeks, and this most recent case has one family on edge.
The 16-year-old girl was shot while waiting for a bus in West Valley City Thursday. In what appears to be an eerie coincidence, her two sisters were also shot by BB guns earlier in the week.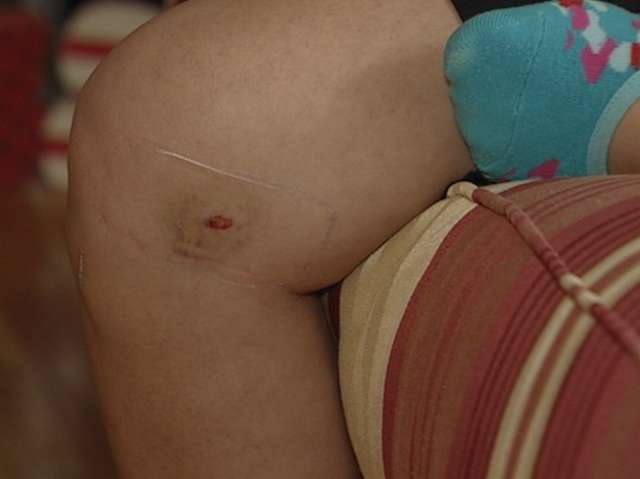 "I don't think that our kids were targeted in any way. They were just in the wrong place at the wrong time," says Tannia Webber.
Ashley Gray and her sister, Melinda, were waiting for the bus near 3500 South and 4800 West Thursday afternoon. Ashley said she heard a noise and felt pain in her leg, then it began to bleed.
Ashley called her mom, who called police. The girls got on the bus but got off at the next stop, where officers met up with them.
The BB is lodged too deep in Ashley's thigh, so doctors have decided to leave it in there.
"They've been hurting a lot of people, and they can seriously injure somebody if they don't find them soon," Ashley says.
She says she knew she had been hit by a BB because, on Tuesday, the same thing happened to Melinda and another sister. The two girls were walking home when a silver car drove up and shot 14-year-old Autumn in the back.
"We really didn't think it was anything," Melinda said. "We just thought maybe a car drove by, [had]a stick or something, and hit her. Until we turned, and the car came back and popped out of nowhere, and it hit me."
The first BB lodged in Autumn's left shoulder; the second shot hit Melinda in the leg.
The girls' family says they're nervous to let the kids outside until the shooters are caught.
"I don't think these people that are doing this, whether they're teenagers or adults, I don't think they realize the amount of injury they've caused and what the consequences are," Tannia says.
Police in West Valley, South Salt Lake and Salt Lake County are investigating a rash of BB gun shootings in the past week. They say there have been different descriptions of suspects and vehicles, so it's still unknown if all the shootings are connected.
So far, police know of 21 people who have been shot by BB guns. The victims range from 13 years old to 53 years old. [CLICK HERE to see a plot map of each attack]
If you have any information on who might be responsible for these shootings, contact police at 801-840-4000 or 801-743-7000.
-----
Story compiled with contributions from Sandra Yi and Marc Giauque.
---

View BB Gun Shooting locations in a larger map
×
Related stories
Most recent Utah stories