Estimated read time: 5-6 minutes

This archived news story is available only for your personal, non-commercial use. Information in the story may be outdated or superseded by additional information. Reading or replaying the story in its archived form does not constitute a republication of the story.

WEST JORDAN -- The Fullmer brothers' name is synonymous with Utah Boxing. Their gym at 7900 South 1300 West in West Jordan has shaped a lot of lives, and unleashed many boxing dreams. But right now, they're fighting to keep the legacy alive.

A couple of months ago, we first told you the Fullmer Brothers Boxing Gym and West Jordan City need to come up with a new location for the gym. The city needs to use the old firehouse, so the gym has to go. They're not sparring over the dilemma, but need a few more rounds to find a good solution, and met Thursday to talk about ideas.

The purpose of the boxing gym

Welterweight boxer Lee Tibbitts first came to the gym two years ago. He says the Fullmer Brothers Boxing Gym prepares kids for battle in the ring and the challenges of life.

**Who is... Gene Fullmer?**

![](http://media.bonnint.net/slc/1685/168566/16856659.jpg)Gene Fullmer, born and raised in West Jordan, was a professional boxer in the 1950's and won the world middleweight championship in January of 1957 when he beat Sugar Ray Robinson in a 15-round decision. In a rematch the following May, Robinson knocked Fullmer out in the fifth round with a left hook to reclaim the title. After the National Boxing Association withdrew their recognition of Robinson as champion, Fullmer fought for and regained the title in 1959. He held on to the title until 1962 when he lost to Dick Tiger. A rematch in February 1963 resulted in a draw; Fullmer's bid to regain the title ended in a second rematch in August 1963 when he was TKOed in seven rounds. Fullmer runs the Fullmer Brothers Boxing Gym with his two brothers, Don and Jay.

"It's changed my life," Tibbitts says. "It basically saved my life." He's training for Utah's State Golden Gloves Tournament this weekend at the Sports Mall in Murray. If he wins, he goes to nationals. If he wins there, he has a chance to go pro.

Tibbits says the gym, and boxing, helped him develop discipline to achieve his dreams.

"I was on a different road of life before I met them, and they set me straight," he says.

All three Fullmer brothers were professional boxers; two had shots at the title, and Gene Fullmer won the world championship twice. He upset the legendary Sugar Ray Robinson 53 years ago, on January 2, 1957. A few months later, Robinson got the upper hand in a re-match.

Working to save the gym

The city gave the nonprofit club free use of the station but needs it now to store salt and snow plows. The city wants to park trucks where the club now stands, decentralizing the fleet to make snow removal quicker and more efficient.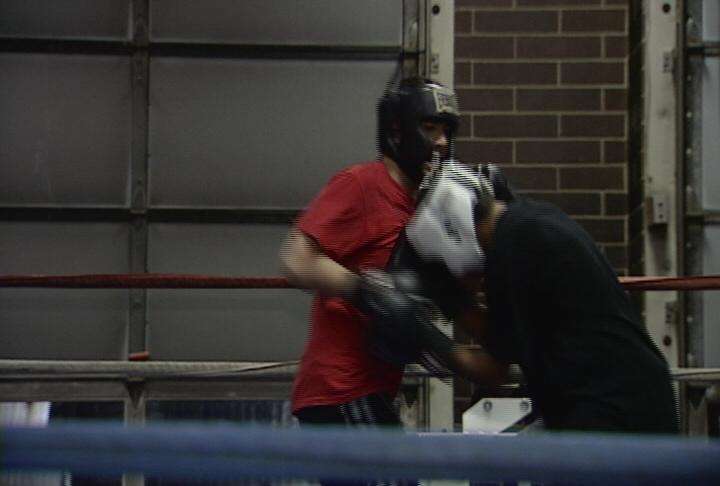 City officials say they like the program and what it does for youth in the community, but it needs to look a different options. The gym may have to move, or another solution could solve that problem. Nothing has been decided yet.
"The not-so-subtle secret is that money buys solutions," says Tom Steele, West Jordan City Manager. "The problem is that nobody's coming up with a lot of money."
The city manager fondly remembers Gene Fullmer's successful run at the championship title, and chuckles that the younger boxers certainly don't remember those days. The city, he says, cares about the legacy of the gym.
"We're taking a look at those alternatives right now," he says. "We haven't finished that. We'll probably have something in the next six weeks."
If the gym cannot stay, nephew Larry Fullmer does not know where it will go.
"They're not trying to kick us out," Fullmer says. "We're just trying to work out a situation that will be good for the city and for us."
The gym has applied for federal grant money that might help defray city costs. Fullmer says the majority of kids in amateur boxing are at-risk youth, and may not have the means to participate in other sports.
"It's a way to keep them active and out of trouble, and teach them skills that require discipline and self-esteem," he says.
Success stories from the gym
Fullmer says the gym is filled with success stories from more than seven decades: stories of many kids who dodged trouble on the streets through boxing, and elevated their dreams in the ring and life beyond boxing. Former boxers have achieved great success, he says.
"Everywhere from attorneys to politicians to professional people, and they can go back to when they were kids and they were involved in boxing," Fullmer says.
Heavyweight Tyrell Roush discovered the gym 12 years ago, long before it moved into this old West Jordan firehouse five years ago. He came with brothers and cousins, and brought in many friends over the years.
Rocky Mountain Golden Gloves Tournament
March 26-27
7 p.m. nightly
Sports Mall
5445 S. 900 East, Murray
Tickets:
$12 Adults
$5 children and students with school ID

"They make you feel like a better person," Roush says. "They've helped me a lot in that sense."
The heavyweight is also training for the Golden Gloves state championship this weekend.
"It keeps me out of trouble, makes me feel good, keeps me from getting too big," he says.
On a typical night, Roush says 50 kids will crowd the gym.
"There's a lot of young kids, I know, that if they weren't down here, they would probably be getting into trouble," he says.
Tibbitts says the gym is like a second home, and the people there are family to him.
"That's what this place is all about," Tibbitts says, "giving back to the community, helping out kids that are having a hard time or get lost along their way."
Gym leaders and the city will meet again in a couple of weeks with the mayor and some city council members to talk about options. They will present those ideas to the city council April 28.
The state championships are this weekend at the Sports Mall in Murray.
E-mail: jboal@ksl.com
---
×
Related links
Related stories
Most recent Utah stories