Estimated read time: 2-3 minutes
This archived news story is available only for your personal, non-commercial use. Information in the story may be outdated or superseded by additional information. Reading or replaying the story in its archived form does not constitute a republication of the story.
Alex Cabrero ReportingNew Orleans is getting a lot of the attention, but it's not the only place where people are trying to cope in the aftermath of Katrina. Alex Cabrero is in Slidell, Louisiana, just across Lake Pontchartrain from New Orleans.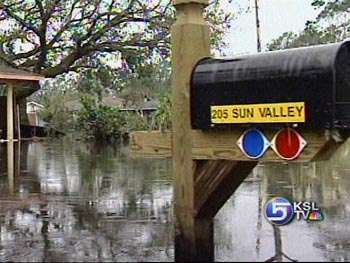 People in Slidell know the condition Is bad in New Orleans, but they don't know how bad because they don't have any electricity – no TV, no internet, no radio. So, to them, their flooding is as bad as they can imagine things.
Dennis Anderson: "It's the smell of death around here; it's unbelievable."
Normally you could drive a car down Dennis Anderson's road, but this isn't normal.
Dennis Anderson: "It's beyond anything we've imagined. My house is gone. My boats gone, all my boats are gone."
Now a boat is the only way to get around. The water almost touches the bottom of mailboxes. Big trucks are halfway under, cars are even worse.
Dennis Anderson: "There's so many dogs back there, even on roofs back there, you know. I was here yesterday and they were all howling back there."
But no howling today, worrying Shannon Wilkenson that her dog didn't make it.
Shannon Wilkenson: "My house went six feet under. We lost everything."
It's sad to think that for residents, a canoe is the only way to get around. Their homes, cars, everything is under water now. What's more unsettling is that it'll probably be this way for quite some time.
Shannon Wilkenson: "What are we gonna do? Wait for FEMA to cut us a check and go from there; that's all we can do."
Federal money could be weeks or months away from reaching these people. Even then, the damage is unimaginable.
On the other side of Slidell the problem is trees. Hundreds, even thousands of trees have fallen, slamming into roofs. Shelters have been set up in the cities so people have a place to go to. There have been some deaths, but until the water level go down and rescuers can search homes, they won't have an accurate account of how many people died.
×
Most recent Utah stories