Estimated read time: 2-3 minutes
This archived news story is available only for your personal, non-commercial use. Information in the story may be outdated or superseded by additional information. Reading or replaying the story in its archived form does not constitute a republication of the story.
SALT LAKE CITY -- Distracted driving is a growing problem. Some researchers say it has eclipsed drunk driving in fatalities for teenagers. Now there are new efforts by two Utah universities to get drivers to let go of their cell phones.
Most of us at one point or another have picked up our cell phones in the car. We think it's OK to text; it's only a couple seconds after all. But that's all it takes to get into a crash.
When you start your car, you never think it'll be the last time you do it, but it's becoming increasingly dangerous on our roads with cell phone distraction.
David Strayer, a professor of psychology at the University of Utah, says, "Now we are losing more teenagers to distracted driving than to drunk driving."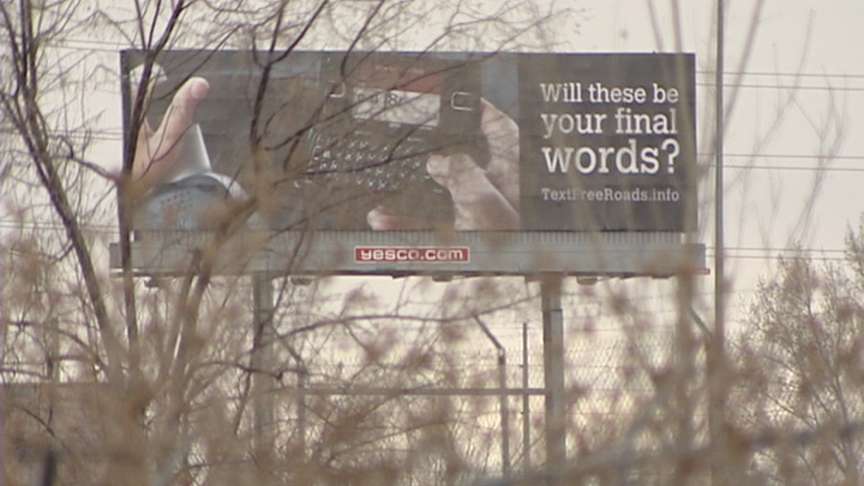 The University of Utah is at the forefront of distracted driving research and prevention. Strayer says over the past 20 years there has been a 60 percent decline in drunk driving fatalities for teenagers. At the same time, 30 percent more teens are dying while driving distracted.
"One in 10 people who are driving at any given time are talking on the phone. I don't think you'd feel safe driving back to work or home at night if you knew one in 10 drivers were drunk," he says.
That's what inspired a Utah Valley University senior to make a billboard warning people about the dangers.
Jalise Hinton says, "I wanted to do something that would make a difference."
Hinton decided to turn her senior studio project into a public service announcement. She came up with an ad encouraging young people to stop texting while driving. It says, "C u l8r. Will these be your final words?"
Hinton's design was sponsored and made into a billboard. It's visible driving south on I-15 in Murray, which thrills Hinton.
"Excitement, fulfillment. It's done and people are seeing it," she says.
Hinton has other signs on benches and buses in Provo.
She's been inspired herself, never using a cell phone in the car, and she hopes others do the same.
"Prevention -- I'm hoping to see some major changes. Hopefully people can put that phone away while they're driving," she says.
The University of Utah professor we spoke to says hands-free devices don't make a difference in the car. He says your mind is distracted whether you're holding a phone or not.
E-mail: ngonzales@ksl.com
×
Most recent Utah stories