Estimated read time: 2-3 minutes
This archived news story is available only for your personal, non-commercial use. Information in the story may be outdated or superseded by additional information. Reading or replaying the story in its archived form does not constitute a republication of the story.
SALT LAKE CITY -- A big development in downtown's City Creek project moved into place overnight.
Construction crews put in a pedestrian bridge over Main Street, effectively connecting the two halves of City Creek's future retail center.
In the dead of night Saturday, 150 construction workers gathered on Main Street to hoist a major milestone into place. The steel structure, which weighs roughly 320,000 pounds and stands 140 feet high, was built off-site.
Crews hoisted the bridge into place halfway between South Temple and 100 South.
"It's a big step, but it's only one of the steps," said Robert Hartelust, the bridge superintendent. "Clearly as good looking as the steel structure is behind us, there's still a lot more work we have to do."
More work because right now, the steel structure is nothing but a frame. Ultimately it will be enclosed and finished with art glass panels.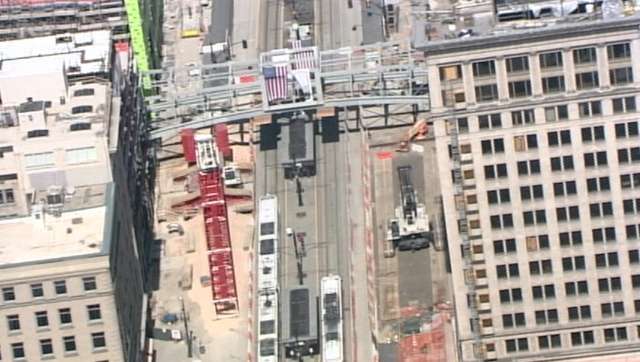 "The Church is interested in making certain that the environs around Temple Square are pleasing, they're safe, with a lot of vitality," said H. David Burton, presiding bishop of The Church of Jesus Christ of Latter-day Saints.
The sky bridge connects the two halves of the City Creek Center -- a mixed use development project being built by the LDS Church.
"I see the LDS Church as not only a critical partner for us in terms of success but really sharing a lot of the same vision for the future of our city," said Salt Lake City Mayor Ralph Becker.
A vision that includes a vibrant Main Street filled with housing, retail, business and most importantly, people.
"One of the objectives of this particular project was to build a 24-7 population downtown," said Bishop Burton.
Becker agrees.
"City Creek really is, it's almost a new form of development for Salt Lake City that captures a lot of what people love so much about Salt Lake City in the pre-mall era," he said.
The sky bridge will be closed to pedestrians until 2012 when the City Creek Center is finished. As for Main Street, it will remain closed to vehicle traffic until next Saturday.
E-mail: kmccord@ksl.com
×
Related stories
Most recent Utah stories