Estimated read time: 2-3 minutes
This archived news story is available only for your personal, non-commercial use. Information in the story may be outdated or superseded by additional information. Reading or replaying the story in its archived form does not constitute a republication of the story.
Kim Johnson reporting Images of grand scale disasters are coming into our living rooms more and more. It begs a hard question: We asked Utahns if they would be prepared if a natural disaster similar to Hurricane Katrina were to happen in Utah.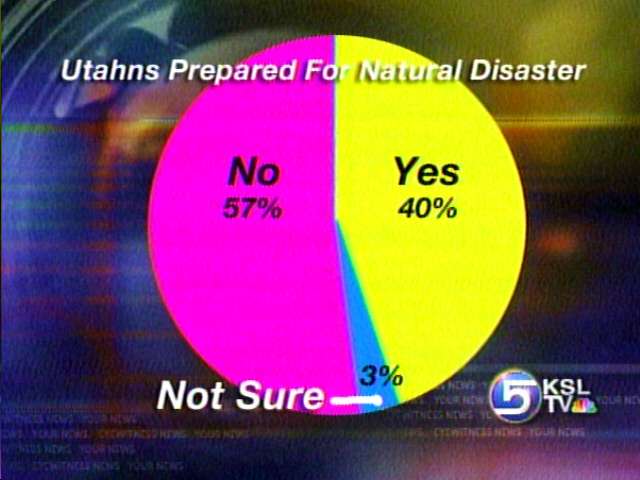 Less than half of the Utahns we polled said they would be prepared for a disaster on the scale of Hurricane Katrina. 60 percent said they wouldn't be, or weren't sure.
Getting prepared for a possible disaster can be overwhelming. Experts say start small. First figure out how you and your family would get through seventy two hours without outside help.
The American Red Cross has first aid, and 72 hour kits for your home and car, plus a lot of valuable information.
Mariann Geyer, American Red Cross: "The Greater Salt Lake chapter of the American Red Cross has information that's available for free of charge that anybody can pick up that will help you put together your family disaster plan and know what you need to have at home."
The first thing you'll need at home is clean water and non perishable food to last every member of your family for three days.
Stores that sell emergency supplies have a host of gismos and gadgets that would make surviving a disaster a lot more comfortable.
Don Pectol, Emergency Essentials Inc. "Just so many new inventions, a flashlight for example, a magnetic flashlight, that you simple just shake and it can produce light so you never have to worry about batteries. Just so many new inventions that have really helped people become prepared,
When you've got supplies to last 72 hours, start storing basic food stuffs to see you through longer periods of time.
Kevin Nield, Bishop's Storehouse Services, LDS Church: "Such as grains, powdered milk, water on hand, edible oil, very basic kinds of things that if the food supply were not there for a while you could have something to eat and live on.
Finally, get prepared by learning how to save a life.
Mariann Geyer, American Red Cross: "We think that it's very important that at least one person in every family, at least one person in every office know life-saving skills. Do you know CPR, do you know basic first aid."
If you don't, the American Red Cross offers classes every week that will give you those life-saving skills, and maybe a little peace of mind.
×
Related links
Most recent Utah stories