Estimated read time: 2-3 minutes
This archived news story is available only for your personal, non-commercial use. Information in the story may be outdated or superseded by additional information. Reading or replaying the story in its archived form does not constitute a republication of the story.
Tonya Papanikolas Reporting Deputies' cars lined the street this morning as the SWAT team moved in to control a potentially dangerous situation in Riverton.
A man was holed up inside a home with weapons, and police believed he was suicidal. Earlier, he had threatened someone with a gun and police didn't know if he would try to get into a shootout with officers.
Officers had been at the house since getting a phone call from a party-goer who explained what had happened there two hours earlier.
"At about 4:00 in the morning, after they'd been drinking quite a bit, one male subject picked up a gun, was acting suicidal and pointed it at a person at the party," said Sgt. Rex Mulholland, Salt Lake County Sheriff's Office.
Everyone at the party left without incident, but the man remained inside. After deputies responded, they tried making contact with the man.
"Got no response at all," said Sgt. Muholland. "Tried with the phone, tried with the bull horn, got no response."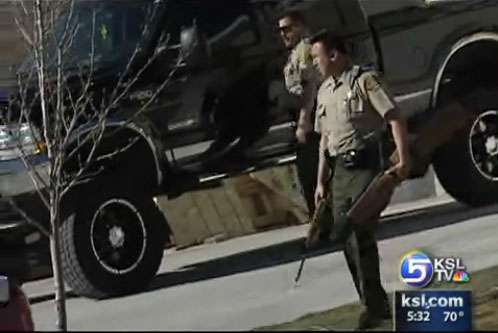 That's when deputies called the SWAT team.
The incident made for an unusual morning for church-goers and neighbors in this usually quiet Riverton neighborhood.
"It was just not your normal day at church," said churchgoer Randy Barron. "People were coming to church and SWAT team was across the street, so a little different. A little unusual."
"I actually came to get my little girl's juice because I forgot it," said Brandon Himle, another churchgoer. "They had two SWAT members posted up on the back of the house. And I was like, wow!"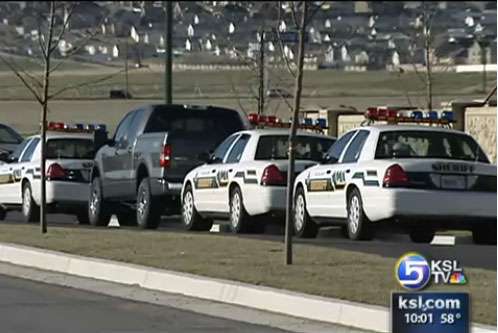 LDS church members watched as the Salt Lake County SWAT team jumped over fences and waited with guns drawn. They also knocked on neighbors' doors, telling them to keep their families and children inside and away from windows.
After SWAT members set up a containment area, 26-year-old David Dowland eventually came out on his own and surrendered. Officers also recovered four weapons--two pistols and two long-guns.
"Successful morning. No one was hurt, and the suspect was taken safely into custody without injury," said Sgt. Mulholland.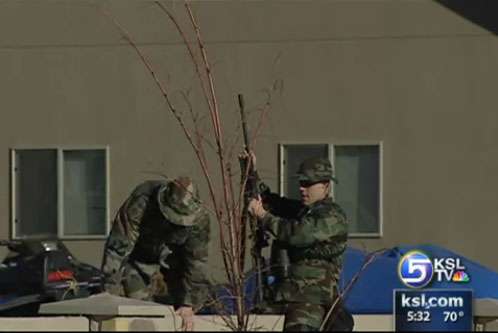 "They were just very cautiously going around the house, checking things out and doing their jobs," said Barron. "Interesting day in the neighborhood."
"This seems like a low-crime neighborhood, and seeing all those sheriff's department cars, I didn't even think they had that many around here," said Himle.
Neighbors told KSL the couple who live in the home have parties quite often, but that they've never had any trouble before.
Dowland was arrested - and though he never fired any shots - he will be booked on charges of aggravated assault and possession of a firearm while intoxicated.
×
Most recent Utah stories