SALT LAKE CITY — This summer, residents along the Wasatch Front dealt with the most polluted air they've seen in a decade. But overall, air pollution along the Wasatch Front is trending down.
Utah's hottest summer on record produced the most ozone pollution in Salt Lake and Davis counties — with the most days exceeding federal standards for healthy air — since 2008.
Ozone is a secondary pollutant that is formed in the atmosphere. On sunny days, heat cooks up emissions from vehicles, paint solvents and aerosols and creates ozone.
"That's what you can't see. That's what impacts us on the hot summer afternoons," said Bryce Bird, air quality director for the Utah Division of Air Quality.
This summer, ozone was enhanced by western wildfires.
But, overall, Utah's air pollution has been trending down over the last decade.
"It's easy for us to look at a bad summer or look at a bad few days and think, well this is the worst it's ever been. But it's clear that it's not," Bird said.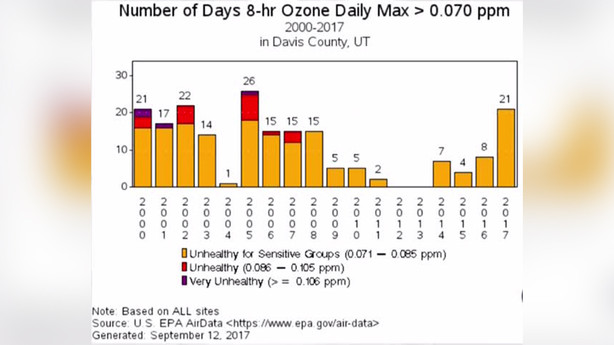 Even as Utah's population grows and people drive more, vehicle emissions are dropping because cars and other products are cleaner, Bird said.
"As we look at the long-term trends, we know that the emissions are going down. We know that vehicles are getting cleaner. We have put controls in place for heavy industry that have resulted in fewer emissions," he added.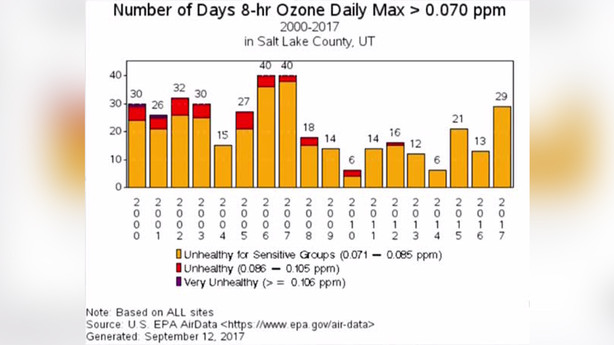 Residents' decisions to combine trips, carpool and take public transportation have also contributed to better air.
Since 2014, 30 new rules aimed at reducing pollution have taken effect in Utah, Bird noted.
Tips for helping reduce air pollution in Utah are available at the Utah Clean Air website.
Photos
Related Stories