SCOFIELD, Carbon County — Anglers will soon have new fishing opportunities after state wildlife officials introduced three new fish species into Scofield Reservoir after nearly a year of public feedback.
Wiper, a hybrid between a white bass and striped bass, tiger muskie and triploid walleye were added to the reservoir last week, according to Justin Hart, Division of Wildlife's southeastern region aquatics manager.
Each of the species is sterile, which Hart said will allow managers to control the population of the fish. The addition of the species, officials believe, is expected to provide trophy fishing opportunities and larger predators that can help control adult Utah chub in the reservoir that the Utah Division of Wildfire Resources has been trying to reduce in quantity.
"We need to reduce the chub. We don't want to eliminate them completely, of course. We plan to use them to grow some big fish. But we do need to reduce their numbers," Hart said in a news release.
The new species are anticipated to be at a catchable size by 2018 at the latest. Crews also installed a screen to prevent the fish from moving downstream.
In addition, the DWR will stock rainbow trout several inches longer than the 8-to-10 inch long fish available at other locations. The bigger rainbow trout will be stocked in 2018, along with cutthroat and tiger trout.
The decision to stock the reservoir with new species came after a period of public feedback, including a public survey in October 2016. The DWR received more than 2,500 mostly positive responses to introduce new species to the reservoir.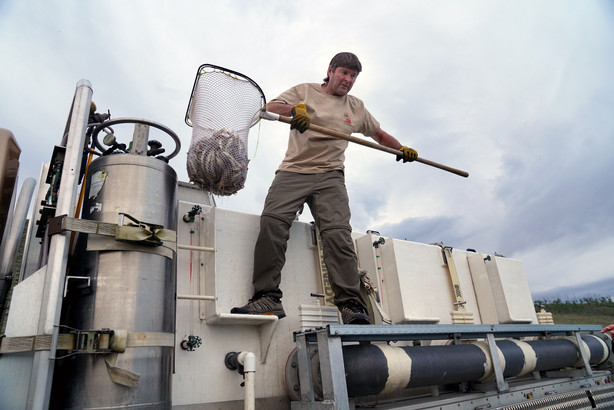 That led to a management committee of biologists, residents near the reservoir and volunteers, including several sportsman organizations to piece together a plan with the DWR to improve fishing at the reservoir for the long term.
The 2016 survey also asked individuals about using rotenone, a piscicide used to kill fish, as an option to control the number of chubs in the reservoir. The DWR noted responses to use rotenone were mixed.
The agency said it would revisit that option in five years if the chub population is not reduced or if the new species are unable to thrive.
Prior to the survey, state wildlife officials, volunteers and anglers hit the waters in May 2016 to study the fish in the reservoir as officials tried to find a way to curb the amount of chub.
Photos
0 Pending Comments
Sorry, we are not accepting new comments on this story, but if you have more to contribute please email
newstip@ksl.com
Showing of 28 comments
Sorry, we are not accepting new comments on this story, but if you have more to contribute please email
newstip@ksl.com