SALT LAKE CITY — Andrew Wiscombe tells a familiar story, in song, about a soldier who gets married, goes off to war and comes back changed.
"… Charlie made it home safely with shell shock in a stun. He laid next to his Janie with his mind still on the run."
It's a fictional story, but it's also his own.
Wiscombe and his wife, Kate, married in January 2008. In October of that year, when she was eight months pregnant, the Army sniper shipped off to Iraq.
"There were so many days I thought you know today's the day. Today's the day I'm not gonna make it, and you just wait for that bomb to go off," he said. "And I come home and see him (his son) for two weeks on my R&R during the military and fall in love, you see your wife and go back and this aching again and you just wonder, you wonder, am I gonna make it?"
He returned to the states and settled into a civilian life and a career in transportation management, until a fellow sniper and a good friend took his own life.
"I just noticed that he (Andrew) was wounded," Kate Wiscombe said. "I don't know any other way to describe it but that."
He said he was no longer able to cope with a difficult schedule of school, long hours at work and service in the Army Reserves.
Kate Wiscombe said she felt, as the character in her husband's song says, like she was "holding a ghost."
"Your mind is in the distance but your body is the host. What happened to the one man that I love the very most. 'Cause now it feels like I'm holdin' a ghost."
Andrew Wiscombe, who, along with his wife, grew up in Utah, but was living in Tennessee, quit his job and moved his family back to his home state. At the VA Health Care System, he got treatment for post-traumatic stress disorder.
He also did something he had rarely done during six years of marriage — he picked up a guitar and started singing.
"Like where did that come from, you know," he said.
Andrew Wiscombe said music was therapy.
"I found that it's impossible for me to be paranoid, depressed and that self-confidence gone when I'm playing music and I'm filled with love," he said.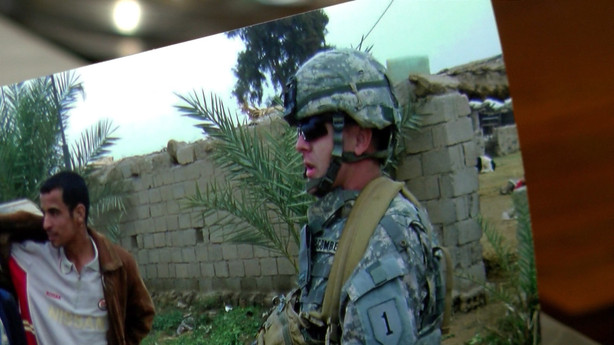 Now Wiscombe is singing a different tune. He's pursuing a career as a singer-songwriter. He's changed, he said, and he's learned to accept that.
"Like a river runs wild, Like a lark flyin' free. Like a tall Georgia pine, I'm okay being me," he sang.
"You know I think a lot of veterans come home and they get frustrated with 'why do I feel this way? Why am I this way? I just want to go back," he said. "Well if I can say anything to them, you can't go back and you won't be the same person. Just be OK with who you are, accept where you're at and try to be present and just live with it. Although I navigate this world differently now than I did before, at least I appreciate it more. And if it has to be a little bit more bitter for me to taste the sweet, then that's OK."
Wiscombe plays regularly at the Potbelly Sandwich shops in West Valley and Thanksgiving Point.
His songs can be found on iTunes. For more information and to listen to his music, go to andrewwiscombemusic.com.
Photos
Related Stories
0 Pending Comments
Sorry, we are not accepting new comments on this story, but if you have more to contribute please email
newstip@ksl.com
Showing of 11 comments
Sorry, we are not accepting new comments on this story, but if you have more to contribute please email
newstip@ksl.com