SALT LAKE CITY — Award-winning musicians and a multifaith choir of local children, musicians, dancers and faith groups from across the globe came together Sunday evening for a rousing interfaith program at the Salt Lake Tabernacle.
The program, "Many Faiths - One Family" was produced by the Salt Lake Interfaith Roundtable in partnership with the Parliament of the World's Religions, which concludes its five-day gathering Monday.
The evening started with stirring opening devotions by indigenous people, a Muslim call to prayer and shofar players representing Judaism, and capped off with all performers and audience members singing "Let There Be Peace on Earth."
In between there were whirling dervishes, a performance by Kummar Chatterjee, a classical singer representing the ancient Indian religion Jainism, and a drum group made up of Burundi refugees who now live in Utah.
Grammy award winner Yangjin Lamu, a Tibetan Buddhist, appeared with a group of students from Southeast Asia whose drum performance explored meditation. They were joined on stage by a young champion of swordplay.
"I feel everyone who comes to join here together comes with love and peace in their heart. They want to come here share this event," she said through an interpreter.
"Although everybody comes from different faiths, the love within is all the same."
Members of the Baha'i faith came to Salt Lake from across the United States to take part in Parliament, performing under the direction of Van Gilmer, music director of the Baha'i House of Worship for North America based in Wilmette, Illinois.
Gilmer said the choir had not practiced as a group until this week. To help them learn the music and their respective parts, he sent videos to choir members to practice on their own.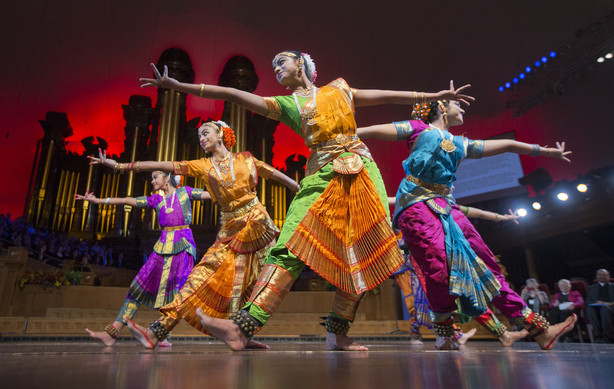 The Baha'i faith is practiced worldwide so there is tremendous diversity at the faith's own international gatherings, Gilmer said.
But Parliament takes it a step further because of the wide array of faiths represented.
"You have people who could be in contention with each other who are not. We all seem now to realize as we're here that we are one humanity and we do believe in one God," he said.
Alan Scott Bachman, director of the Sacred Music Night, said pulling together such a wide array of musicians, dancers and faith groups from across the country, if not the world, posed logistical challenges.
"It really has been a labor of love but it's extremely complicated with a lot of moving parts," said Bachman.
Bachman also led the Youth Multifaith Choir made up Utah children of Muslim, Hindu, Jewish, Sikh, Buddhist, Christian, Jain and Baha'i faiths.
Like the Baha'i Choir, the youth choir had not practiced as a group until about 30 minutes until the beginning of Sunday's program.
"They've all learned the song separately but they haven't been all together in one room. That's where God comes in. Please, God, make it work," Bachman said in an earlier interview.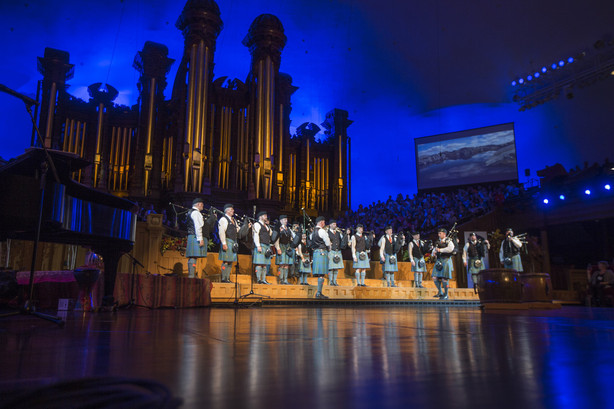 Bachman, an Assistant Utah Attorney General, works in contract, purchasing and design law, so he is used to highly detailed jobs that require good communication.
"You're dealing with many parties to build a building. Everybody has to learn how to build a bridge with each other, to communicate with each other, to make that building work properly," said Bachman, who is Jewish and studying to become a rabbi.
He also played keyboard Sunday night with Aashish Khan and the Inner Voyage. Khan comes from a long line of Indian musicians who have collaborated with many Western musicians, among them "The Beatles."
Heath Fullmer, a member of the Church of Jesus Christ of Latter-day Saints' Orem Institute Choir, said performing with and mingling with people of faith traditions "is actually pretty fun.
"We not only get to the good things that come from our religion and our worship of it expressed through singing, we also get to see how the other religions express theirs."
The LDS Church offered use of the Tabernacle for the program as one of its contributions to the interfaith gathering.
Gilmer said the coming together of people of faith to make music was a powerful experience.
"It feeds the soul and the spirit of man. We can often sing words that I would hear if someone said them to me. There's something about the power of music that reaches deep inside," Gilmer said.


Photos
Related Stories
0 Pending Comments
Sorry, we are not accepting new comments on this story, but if you have more to contribute please email
newstip@ksl.com
Showing of 3 comments
Sorry, we are not accepting new comments on this story, but if you have more to contribute please email
newstip@ksl.com